Indianapolis Metro K9 Officer and Law Officer Columnist Ron Shelnutt has done it again.  His latest video is called "The Triumphant Officer."
It depicts Metro Officer Travis Owens, whose leg was amputated and who now uses a prosthetic leg, running through a field. We hear his voice as he makes his way through a path in the woods.
"I want to be the person everyone looks up to, and I want to be the person that inspires you. Everyone is special and everyone has their own demons. The goal is to take control and destroy the past," he said.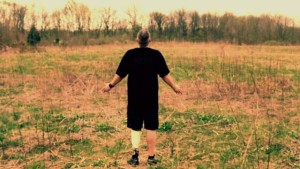 Owens injured his leg prior to joining IMPD in unrelated roofing accident. He had surgery and recovered, and passed his physical in the applicant process in the first IMPD recruit class.
But Owens continued to have problems with the injured leg. After several surgeries and consultations with his doctors, he made the decision to amputate.
Owens thought it would end his career, but IMPD's Office of Professional Development and Police Wellness assisted him through his recovery – even connecting him with an Anderson officer who explained how he could still perform his duties.
"Some say that the grass is greener on the other side. But I am just going to make my own grass. Everything in life happens for a reason. We may not know right now and we may never find out. But if you are one of the lucky ones, you will figure out a reason for some of the things that have happened to you in your past."
"Life is exciting and you have to look forward to the next moment, good or bad. Never give up. Never quit."
Metro Officer Ron Shelnutt uses his company, RS Aerial Media, to make spectacular tributes to law enforcement.  Prior to this video, we featured his tribute to Deputy Carl Koontz, who died in the line of duty on March 20, 2016.
Ron Shelnutt is an award winning video producer and K-9 Officer with the Indianapolis Metropolitan Police Department.