A city councilwoman in North Carolina is walking back an explosive statement she wrote Monday on her personal Facebook page in which he said that the "most dangerous people with guns" aren't criminals, but police officers and soldiers.
"I am all about keeping guns away from dangerous people, but I feel like more of us should be pointing out that the most dangerous people with guns are cops and soldiers, and that the no-fly list and FBI anti-terror efforts are seriously corrupted by entrapment, racial profiling and Islamophobia," Durham City Councilwoman Jillian Johnson posted.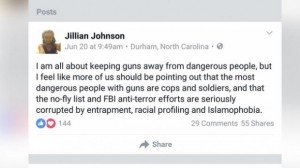 The post, which was later deleted, ignited an online firestorm that resulted in Johnson issuing a "clarifying" statement Wednesday:
"I believe that state-sanctioned violence causes more harm, and is therefore more dangerous, than non state-sanctioned violence. I believe this is true both because the approval of those in authority and often the general public gives a veneer of acceptability to actions we would otherwise condemn, but also because states have the capacity to spend huge resources equipping and funding people to use force in defense of their interests.  We should not ignore these facts, or wrongly assume that those who believe that this situation is fundamentally unjust and should not continue are harboring a hatred for police and soldiers," Johnson continued. "I certainly find a great many of the actions taken by militaries and police forces here in the US and around the world extremely troubling, and I also respect the humanity of those who do not share this disagreement."
Law Officer is the only major law enforcement publication and website owned and operated by law enforcement. This unique facet makes Law Officer much more than just a publishing company but is a true advocate for the profession.