The fear in Tampa came to an end late Tuesday after police arrested a man who will face murder charges in connection with four killings that terrorized the neighborhood of Seminole Heights and sparked fears of a serial killer.
Howell Donaldson III was arrested at a McDonald's restaurant in Ybor City, based on a tip given to Tampa police, FOX 13 Tampa reported. He will face murder charges in connection with all four killings.
Police believe Donaldson, 24, acted alone.
Tampa Police Chief Brian Dugan was confident that the Ybor City investigation could be connected to the Seminole Heights killings.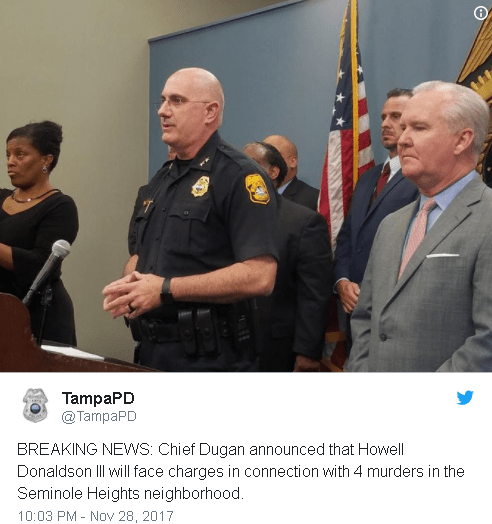 The arrest Tuesday came after an officer was approached by one of Donaldson's coworkers at McDonald's about a gun in the workplace.  Donaldson handed a coworker a McDonald's bag with a.40 caliber Glock that was loaded. He allegedly told the coworker that he wanted to leave the state.
The Florida Department of Law Enforcement and ATF analyzed the fired cartridge casings in all four murder scenes, and identified the casings were fired from the same firearm: a Glock .40 caliber handgun.
The arrest comes after some civil rights leaders expressed concern that the police were looking for a black suspect and questioned the task force set up by Interim Police Chief Dugan after Mayor Bob Buckhorn told the press that he wanted "the head" of the suspect.
The Founder of the Courageous Leadership Institute and Editor here at Law Officer, Travis Yates, calls that controversy ridiculous and praised Chief Dugan and area law enforcement for a job well done.
"The fact is you always have a few that want to impede the operations of law enforcement, even when you are looking for a sick, evil serial killer that has a community in fear," Yates told us.
Yates continued, "I'm proud of the leadership in Tampa Bay that they didn't bow down to those that use race as a way to prevent law enforcement from doing their job.  This was not about race but about a killer that needed to be caught and the Tampa Bay Community should be proud of the men and women behind the badge that did just that."
Law Officer is the only major law enforcement publication and website owned and operated by law enforcement. This unique facet makes Law Officer much more than just a publishing company but is a true advocate for the profession.