All Hazards Prime Backpack PHOTOS COURTESY 5.11
Before April 20, 1999, the thought of a "Go Bag" in law enforcement was one that only a few of us had. In the '90s, the typical law enforcement officer responded to scenes with less than 30 rounds of ammunition and maybe two pairs of handcuffs. Detectives or special assignment personnel would have less than that. After all, the prevailing thought was "why would anyone need anything else?" That was before two students at Colorado's Columbine High School constructed 99 explosive devices and fired multiple weapons a total of 188 times inside the school. The need for law enforcement changed that day in Colorado and almost two decades later, our profession finds itself battling a whole new breed of criminal. Whether you call it workplace violence, domestic terrorism or an active shooter, hardly a week goes by that law enforcement isn't asked to respond to a scene where they need much more than what they find on their belt. This is where the Go Bag comes into play.
Type of Bag
Before I discuss what type of bag you'll need, there is a difference between a law enforcement go bag and a survivalist bug out bag. The former is designed for a law enforcement response to give the responding officer the tools to save their life or another, while the latter is more of a general survival bag. Your options are endless, but you won't go wrong with any bag from 5.11.
5.11 RUSH 12 Backpack
I've had a RUSH 12 Backpack for years and I can't say enough great things about it. It is water resistant with 16 compartments of various sizes. It contains a 60-ounce hydration pocket and my favorite feature is the single adjustable shoulder strap that can be centered on the sternum for stability. This bag is compact and items can be easily accessed on the run, which is always important in a dynamic and stressful situation. At a 24-liter total capacity, the RUSH 12 Backpack is the smallest in the RUSH line. You can get the same great features in a larger bag if you go with the RUSH 24 (37 liters) or the RUSH 72 (55 liters).
5.11 All Hazards Prime Backpack
While I've had the 5.11 All Hazards Prime Backpack for less time, its capabilities are unsurpassed. This is the major league of go bags and while it mirrors the features of the RUSH series, it separates itself from all other bags by its design, which took input from Multiple-Assault Counter Terrorism Action Capability (MACTAC) Instructors. The dual main compartments are lined with high-visibility orange so you can see in low-light conditions, and the tear out medical pouches will speed up first aid situations in the field. This bag is large enough to hold a full tactical kit, including riot helmet. My favorite features are the multiple reinforced handles around the bag, and it is big enough to accept an ammo mule.
What Goes Inside
I recommend that your agency not only mandate a go bag for every officer but that management provide a standard list of contents. When a day turns very bad, go bags and the items inside should be standard issue. If another officer is retrieving my bag for me or going through my bag in the middle of a gunfight, certain contents should be expected to be there. In addition, I would expect that each officer would customize some of the contents to what they feel may help them in a particular situation.
1) Ammo
Look to Columbine or the North Hollywood Shootout and you will see that it would be reckless to think it can't happen to us. Ammunition will be premium in a long-concerted tactical effort and I can only provide you a guideline, but that guideline should start at 200 rounds, already in magazines for both handgun and rifle. Ammunition will be one of the heaviest items in your pack, so that needs to be a consideration, but weight should not come before ensuring the worst gunfight you could imagine could be dealt with by the contents of your bag.
RUSH 12 Backpack
2) Medical Kit
If you haven't taken a tactical medical course, I would do so immediately. There are many excellent courses out there and I recommend the book and course by Law Officer columnist and Trainer of the Year, Eric Dickinson. You can find his courses at SAFETAC Training (Safetac.org), and I guarantee that you will not be disappointed. One of the items Dickinson discusses in his course are the medical items that you need in your go bag. Some of the items include a tourniquet, medical tape, chest seals, bandages, QuikClot, medical shears, lip balm, ibuprofen and nitrile gloves to name a few. While the items are important, knowing how to use them correctly and under elements of stress are even more so. If your agency hasn't already moved toward medical kits and training, don't wait another day. A life could very well depend on it.
3) Weapons
The idea of carrying additional weapons in your go bag should only come with some important consideration. If it's a handgun, the space and weight combined with security should be considered. Personally, I'll take a rifle and handgun into a gunfight along with a few hundred rounds in my go bag, but if an extra handgun can be secured inside a bag without being abruptly jostled while running or crawling and it gives you more security, then by all means do what needs to be done. While a handgun may be optional, I believe a few types of knives are an excellent idea.
All Hazards Prime Backpack, opened
4) Other Items
Depending on the environment, various other items may be needed. Water and protein bars should be a mainstay and unless you want to switch out water on a regular basis I would recommend emergency water designed with a shelf life of 25–50 years. A water filtration bottle makes sense for rural officers, along with a GPS system and a compass. A lighter, flashlight, rope, notebook, paracord, sharpie, flares, flex cuffs and baby wipes round out my go bag must-haves.
All Hazards Prime Backpack
Conclusion
Previous generations of law enforcement rarely had these types of discussions, but the modern day tactics of the enemy and the increased demands from the public have changed the everyday activities of our heroes in uniform. Law enforcement is tasked with putting a smile on each day and putting up with some of the vilest of attitudes. They may go from an abused child call to a community program and then to an enormous event that has only been discussed in training or at a tabletop exercise. Any of these events could redefine the entire community, or—in regards to Columbine—redefine tactics for an entire profession. As you pack that go bag, consider what it could mean and whom it could indeed help.
MAJOR TRAVIS YATES is the Chief Editorial Advisor for Law Officer Magazine. He began his career in 1993 with the Tulsa (Okla.) Police Department. He currently serves as a Division Commander, managing more than 130 officers in patrol, traffic and investigations. Yates received the International Police Trainer of the Year Award in 2008 by Law OfficerMagazine. His seminars in risk management and officer safety have been taught across the U.S. and Canada. Yates holds a Master of Science in Criminal Justice from Northeastern State University and is a graduate of the 227th session of the FBI National Academy. Yates is the Director of Training for SAFETAC Training.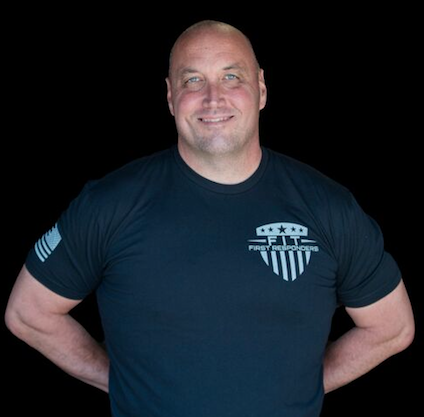 Travis Yates is a writer and editor at Law Officer. An ILEETA Trainer of the Year, his Seminars in Risk Management & Officer Safety have been taught across the United States & Canada. Major Yates is a current Doctoral Student in Strategic Leadership and is a graduate of the FBI National Academy. He is the Director of Training for Law Officer  (www.lawofficer.com) and the Founder of the Courageous Leadership Institute (www.courageousleader.org), providing leadership consulting and training to law enforcement around the world.