Shootings of police have jumped 73 percent this year, prompting passage Wednesday in a key House committee of legislation to tackle those who target police, such as the violent MS-13 street gang that has called for "assassinations" of New York cops.
According to the Fraternal Order of Police, there have been 87 shootings of police so far this year. Of those, 28 died.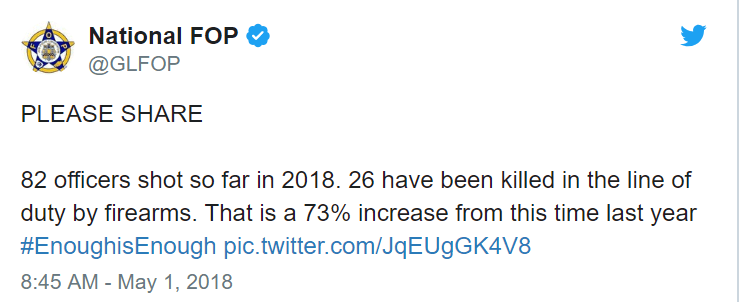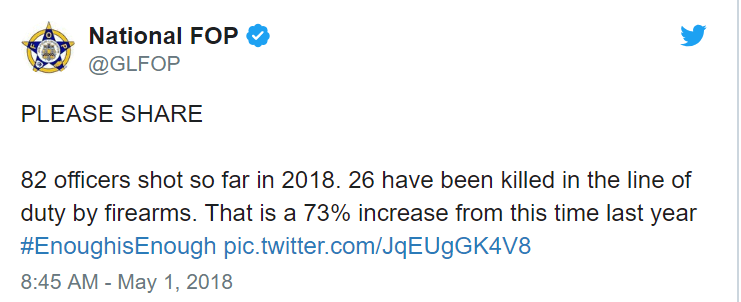 For comparison, 46 police died in shootings in all of 2017, according to the Officer Down Memorial Page.
The Washington Examiner reported that In a letter by FOP National President Chuck Canterbury, he noted the recent killing of two Florida officers as they ate lunch. "Similarly," he added, "the violent transnational criminal organization MS-13 called for the assassinations of police officers in New York so the gang could 'take back the streets' — a move clearly intended to intimidate the men and women in uniform."
SAFETAC Trainer and Lead Instructor for Seconds4Survival Travis Yates says that the dangers that face law enforcement are coming from "all angles" and while it is factual, we continue to see third party activists, media personnel and even police leaders act like we should not be concerned.
"We have the FBI releasing 'The Assailant Study', that says a significant number of cop killers are being ideologically influenced by the media to murder law enforcement and at the same time we have an all time record number of assaults on law enforcement with the now increasing violent attacks with weapons and the profession is simply not preparing in the proper way," Yates told us.
Citing a lack of focus on training that can "get in front" of an attack and the concerns of agency leaders of doing training other than the political correct demands of the time, Yates said that each individual police officer better take responsibility for their own training and make sure that they will win every single encounter.
"Law Enforcement around this country is being led to believe that they should place themselves in more and more danger and risk their lives in an increasingly way and why? Because some in our society care more for the violent criminals than they do the heroes behind the badge that place their life at risk every single day," Yates concluded.
Yates utterly rejects the notion that it is a part of an officer's job to be attacked, hurt and even killed.
"The politicians and activists that say that are evil.  It;'s that simple," Yates said.  "We are seeing the byproduct of not only that attitude but the boldness that has been placed within the criminal element."
Yates told us the answer to the violence against law enforcement is simple.  "Despite all of the noise and the demands, the law has not changed and the Supreme Court has not changed which should indicate to the profession that we are doing something right.  Traditionally, when law enforcement gets out of balance, the courts weigh in and we simply have not seen that.  What we see today is a profession that is as good as it has ever been and we need to stop compromising safety for the sake of a few loud mouths."
Robert Johnson is a 20 year veteran law enforcement officer currently working at a large metropolitan agency. His assignments have included narcotics, gangs and training. He joined Law Officer in 2017 as an Associate Editor.