Is last week's shooting incident of Charleena Lyles another case of police racism or simply another baseless attack on law enforcement.
While the shooting of Lyles, an African American, has drawn condemnation from her family and sparked public outcry from others, it's hard to understand from the statements how anyone could buy that race was a factor in the shooting.
Seattle police Officer Jason Anderson told investigators Charleena Lyles suddenly pulled a knife out of her pocket and was "coming right at my stomach" during a burglary call Sunday that led to the fatal shooting of the 30-year-old mother of four in her apartment, according to statements released Friday evening.
According to the Seattle Times, Officer Anderson said he jumped back and sucked in his abdomen to avoid getting stabbed in the stomach with a knife 4 to 5 inches long.
Anderson, 32, who joined the department in 2015, said he drew his pistol, asked for fast backup on his radio and, along with McNew, told Lyles to "get back."
He said McNew, 34, a Seattle officer since 2008, asked him to Taser Lyles. Anderson said he told McNew he didn't have a Taser.
Lyles then began quickly advancing on McNew, Anderson said, describing himself as in "fear that she was gonna try and kill my partner um 'cause she was going after him."
As Lyles turned a corner to go after McNew, Anderson said, he fired from 4 to 5 feet away and saw Lyles fall to the ground.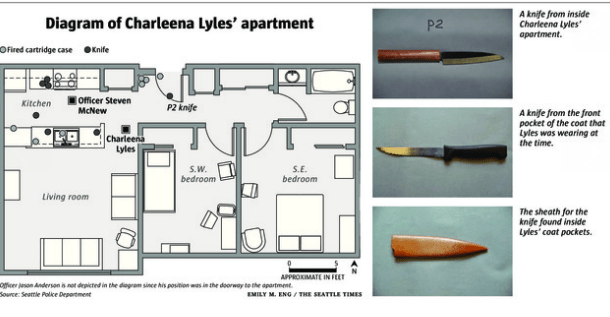 Anderson said he wasn't carrying a Taser because the battery in his died two weeks earlier, but he told investigators he wouldn't have used it anyway because he was trained to use lethal force when someone is attacking with a knife.
This case is just another example of the impossible job that police officers are given.  In this case, a woman comes within inches of stabbing a police officer and continues her quest to do so and when lethal force is used, race is brought into the equation along with the typical "why didn't use the Taser" demand.
Society has a problem and the police are the least of those problems.  From the mental health issues to high crime, violence and those that bring race along with every incident, one has to ask this question.
When will reform come from those that need to reform?  When will kids be told to comply.  When will communities place blame on the criminals and when will those that always place blame on the police look at the real issues of fatherless homes, violent criminals and racists within their own community?
There has been tremendous reform with law enforcement.  Today there is more training, more education and more de-escalation than ever before.  The time has come for additional reform and that reform has to be other than law enforcement.
Black Lives Matter has once again embraced this incident as racism but if they truly cared about Black Lives, they would look much deeper than the police.  It is time for real and meaningful reform and to continually say that has to come from the police will never stop what happened in Seattle last week.
When will our society wake up to this real fact?
Law Officer is the only major law enforcement publication and website owned and operated by law enforcement. This unique facet makes Law Officer much more than just a publishing company but is a true advocate for the profession.