Miami Beach Commissioner and Congressional Candidate Rosen Gonzalez has stirred up her own Democratic Party with an e-mail to City Manager Jimmy Morales on May 30th.
"We need to give the cops back their bullets, remove their body cams, give them their dignity, and let them work all the off hours stuff they want."
She also bit into Miami Beach Police Chief Dan Oates, and claimed he's "failing at leading his troops" and said he would be better suited running the Palm Beach Police Department, rather than Miami Beach.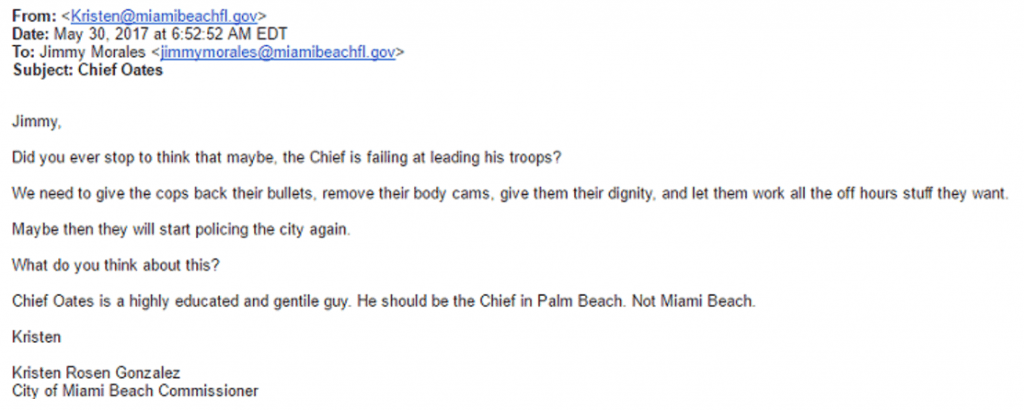 The leaked email has infuriated reform advocates and activists — considering that Rosen Gonzalez, a Democrat, is running to replace retiring U.S. Congresswoman Ileana Ros-Lehtinen in Washington.
Of course the apology came quick once the e-mail was leaked.
"I want to apologize for the way I phrased this," she wrote. "This is part of a broader discussion and I want to put the dignity back into law enforcement and allow the police to keep the residents safe. I want trust levels to be raised, and I want the people of Miami Beach to feel safe."
It's unfortunate that Gonzalez felt the need to apologize.  She had spoken to "50 or 60" cops before writing the e-mail and there are real problems ion Miami Beach and those problems aren't with the cops but with violent criminals but Gonzalez forgot an important fact before her e-mail.  In the world that is the Democratic Party, common sense about crime reduction and supporting cops is a career killer.
It took some of the elite media folks about a minute to jump on her "troops" comment, alleging that she is referring to police as a military force. It's in the playbook so I get it and this is also in the playbook of those that seem to oddly enjoy seeing their cities riddled with crime.  Gonzalez's career in the democratic party is over no matter what she does now because in the party of inclusion and tolerance, you can't do what Gonzalez did…..support the police.
Bullethead has been writing for Law Officer for the past decade. From the controversial to the mundane, Bullethead always has something to say and what he/she has to say always seems to spark conversation.