Shock and outrage. That's the reaction we're hearing after the city of Henderson removed Police Chief Patrick Moers this week. Henderson officials are not saying why.
According to the Associated Press, it could be regarding a postcard. But sources tell Contact 13 there's nothing wrong about that.
"I smell a rat," says retired Las Vegas police Lt. Randy Sutton.  "And I smell a big, fat political rat here."
Sutton was fuming after he heard the news that Henderson's top cop was replaced by a deputy chief.
The fallout could be about a mailer Moers sent to local businesses endorsing a nonprofit group Friends of Henderson Police Department Foundation.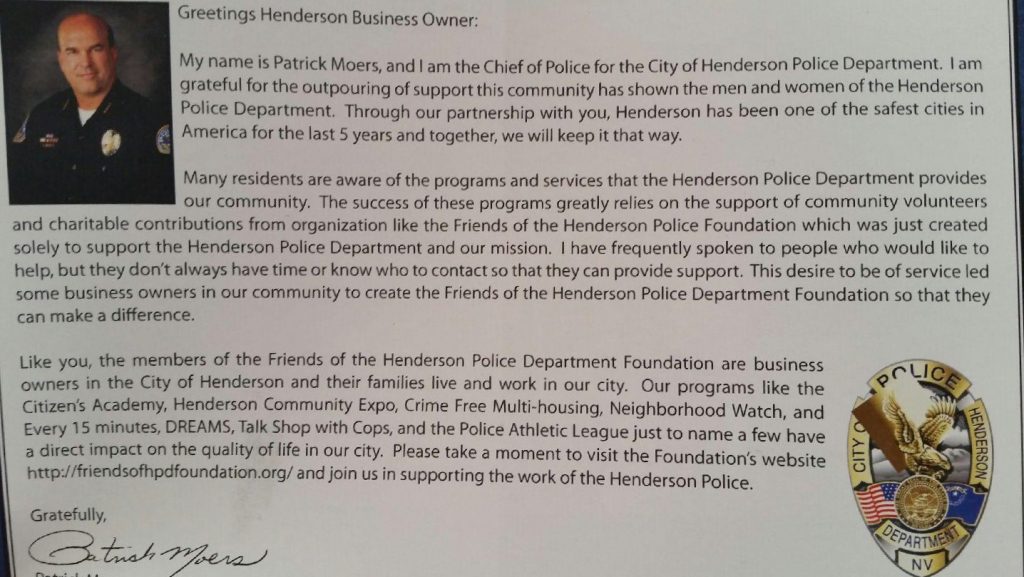 According to the AP, Mayor-elect Debra March says she's concerned about the degree of separation between the foundation and police department.
Sutton says the same kind of foundation for Metro has been around for years, helping police officers raise money for out-of-budget items and community programs.
He also tells us there's nothing wrong legally or morally for the chief of police to endorse these groups.
Mayor-elect Debra March and Henderson officials declined to comment except to say that Deputy Chief Todd Peters will be the acting chief for an undetermined amount of time.
Law Officer is the only major law enforcement publication and website owned and operated by law enforcement. This unique facet makes Law Officer much more than just a publishing company but is a true advocate for the profession.