Photo Courtesy: @TulsaPolice/Twitter
Law enforcement in Oklahoma came together this week to honor a Tulsa Police officer who was killed in the line of duty more than 20 years ago.
One Tulsa alleyway looks very different than it did when Officer Dick Hobson was shot and killed there by an armed robbery suspect in 1996.
Now, a plaque will remind people of the sacrifice he made.
Dozens of loved ones and officers and deputies from several departments were there for Monday's ceremony.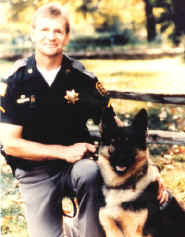 Hobson, a K9 Officer, was tracking a robbery suspect with fellow officer Steve Downie when the suspect ambushed them in an alley. Hobson was killed and Downie critically injured.
Multiple officers returned fire, killing the suspect, but the trauma that occurred in that dark alley lingered for decades.
Downtown Tulsa has changed dramatically since that fateful night and the dark alley has been developed with parking lots and owned by the Ross Group, a real estate development company.
Ben Kimbro, a Ross Group Executive and Tulsa City Councilor, was integral in honoring the fallen officer when he found out that his office window was literally adjacent to the scene.
Tulsa Police Officer Jeff Gatwood was on the scene and after visiting the memorial said this, "I'm so grateful for the plaque the Ross Group dedicated for honoring K9 Officers Hobson and Downie. I was a young officer that was in the alley when this occurred. It was one of the saddest times I've experienced as a Tulsa Police Officer."
Law Officer is the only major law enforcement publication and website owned and operated by law enforcement. This unique facet makes Law Officer much more than just a publishing company but is a true advocate for the profession.