[vc_row][vc_column][vc_column_text]State police and assisting law enforcement agencies are continued their search throughout the night for Jason Robison, 32, the suspect that murdered Pennsylvania State Trooper Landon Weaver.
An arrest warrant for murder was issued for Robison last night but it will not be served.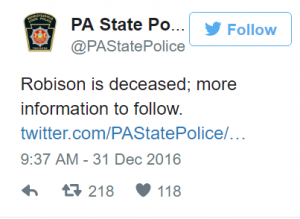 The Pennsylvania State Police announced on their Facebook Page that Robison was dead but did not provide any details.  They said that those details would be coming.
The shooting occurred at a residence on Bakers Hollow Road in rural Juniata Township. The home is listed as the current residence of Robison's mother, Sherry.
Trooper Weaver graduated from the state police academy in June and was immediately assigned to Troop G, Hollidaysburg, near his home in East Freedom. He was a graduate of Central High School in Martinsburg, Blair County. Also in June, he married his high school sweetheart, Macy Gottshall.
Weaver was a dean's list student at Indiana University of Pennsylvania, where he majored in criminal justice.
Weaver is the 139th police officer killed in the line of duty in 2016 and the 63rd to be gunned down.
[/vc_column_text][/vc_column][/vc_row][vc_row][vc_column][vc_video link="https://youtu.be/m168t-gj5tk"][/vc_column][/vc_row]
Law Officer is the only major law enforcement publication and website owned and operated by law enforcement. This unique facet makes Law Officer much more than just a publishing company but is a true advocate for the profession.