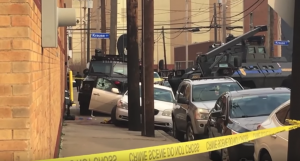 A Cleveland police officer was shot early Tuesday during an hours-long SWAT standoff downtown.
The officer was shot in the leg and his injuries are minor.
[sc name="Article Mobile Ad" ]
The standoff began about 1:30 a.m. when two armed men refused to exit their car outside Magic City strip club, according to police. A SWAT vehicle rammed the car at one point and shots were fired.
Police said the standoff ended in the arrest of two people about 7:30 a.m.
Law Officer is the only major law enforcement publication and website owned and operated by law enforcement. This unique facet makes Law Officer much more than just a publishing company but is a true advocate for the profession.