Photo: Arlington Police Chief Will Johnson (second from the left) is shown with two winners of this years Holiday Patrol Contest.  Officer Robert Phillips (far left) and Peter Athens (second from right).
---
Yesterday we told you the leadership story of Indianapolis Metropolitan Police Chief Bryan Roach, who worked Christmas Day so a street cop could spend the day with their family.
Admittedly, at the time we figured that it was a rare story of servant leadership in a profession that desperately needs solid and true leadership.
Fortunately, we received several stories from our readers of what other chiefs are doing.  Here is one of those stories.
Arlington (TX) Police Chief Will Johnson has continues his tradition of a Holiday Patrol Contest. The contest allows officers to participate in a contest to get Christmas Day off to spend with family and friends, with Chief Johnson filling in for them on duty that day.
According to the Arlington Voice, the rules may vary each year, but this year the participating officers were afforded an opportunity to submit a short essay detailing an accomplishment they had to better the City of Arlington.
In accordance with his custom, Johnson selected two officers to have the day off on Christmas.
The first employee chosen was North District Patrol Officer Peter Athens, who described several events that occurred during the year where he tried to improve the community one call at a time.
Johnson's second selection, however, left him rather astonished, but in a most pleasant way.
The second choice was East District Robert Phillips. Phillips recalled a serious automobile crash that he had worked, one that allowed him to form a mentoring relationship with a young adolescent.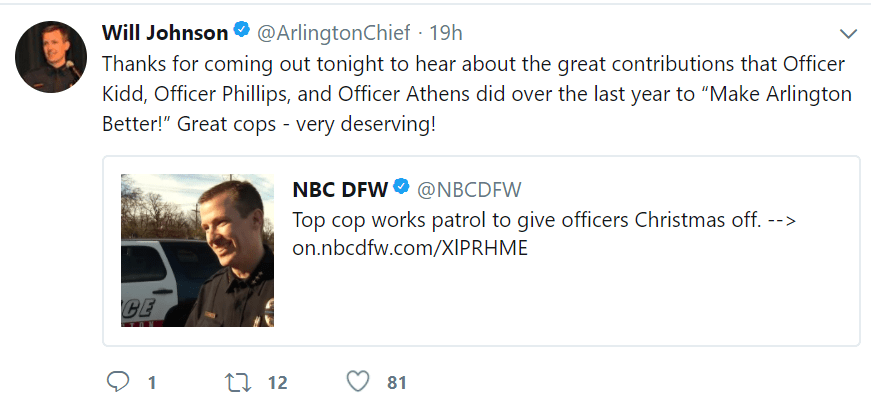 Johnson telephoned both officers to let them know that he had selected them as the winners of the contest. Both Athens and Philips expressed appreciation for their rewards, but then Phillips took it a step further.
In the midst of the conversation with Johnson, Phillips indicated that his family plans had changed for Christmas Day and that he would be available to fulfill his duty that day.
In his place, Phillips asked that his shift mate, East District Patrol Officer Austin Kidd be granted his free Christmas Day instead. Kidd had finished third behind Athens and Phillips in the contest's final listing.
On Christmas Day, Chief Johnson continued the five year tradition and worked along side other patrol officers.  For this year, he clocked in at 1 pm, during the B and C shift, and went home around midnight.
Johnson says his Christmas gesture is meant to serve as a gift from his family to officers and their families.
"I think sometimes the forgotten point is they have an entire family support system," said Johnson. "The family sacrifices for the officer to be able to serve is really why people say policing is a family because it takes both those at work and those at home for us to be successful."
Law Officer is the only major law enforcement publication and website owned and operated by law enforcement. This unique facet makes Law Officer much more than just a publishing company but is a true advocate for the profession.