A Clay County deputy spent 40 to 50 hours of his own spare time, working in his garage, on a project close to his heart.
"I really did this to honor and say thank you and commend Deputy Owens for his courageous acts and bravery during the incident," said Craig Greco, Clay County deputy. "I wanted to paint something that really represented the triumph of good over evil and what better way to do that then representing it with the thin blue line and the Saint Michael arch angel protecting police."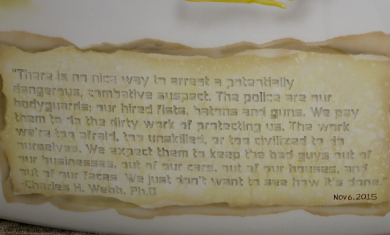 Deputy Greco says a deputy he works with encountered a suspect who chose to flee in his vehicle and then on foot when the deputy tried to arrest him.
"During the pursuit, the suspect fired a weapon at the Deputy, striking his patrol car," Greco explained on his Facebook page.
"I want to thank Deputy Owens for his courageous efforts and bravery and professionalism on the job. This is all about him," Greco said.
The suspect was taken into custody and no one was hurt.
The bullet hole can be seen next to the inscription painted on the hood that reads: "'There is no nice way to arrest a potentially dangerous, combative suspect. The police are our bodyguards, our hired fists, batons and guns. We pay them to do the dirty work of protecting us. The work we're too afraid, too unskilled, or too civilized to do ourselves. We expect them to keep the bad guys out of our businesses, out of our cars, out of our houses, and out of our faces. We just don't want to see how it's done.' -Charles H. Webb, Ph.D"
Law Officer is the only major law enforcement publication and website owned and operated by law enforcement. This unique facet makes Law Officer much more than just a publishing company but is a true advocate for the profession.