We just passed the three year anniversary of the Ferguson Incident and unless you have been living under a rock, you know exactly what I'm talking about.  As I reflect back on the last three years, what Ferguson represents for law enforcement and every police officer, is a scary thing to think about.
The shooting of Michael Brown by Officer Darren Wilson became the biggest lie ever told in American Law Enforcement and served as a backdrop for many lies told ever since, not only in that case but many others.
Admittedly, I have been hesitant to speak here at Law Officer about Ferguson.  While I speak at length about it in the Courageous Leadership Seminar, I spoke about it one time here and was summarily attacked by some in my own community where I work.
Just the idea that "hands up…don't shoot" didn't happen sent a few nefarious characters into a tailspin.  No explanation of the facts would do and the pressure to be silenced was immense.
Three years after the incident, I once again read the Department of Justice Report and decided that I will be silenced no longer.  It is evil to continue to perpetuate the "Lie of Ferguson" and I am disappointed in myself that I let evil keep me quiet.
I will no longer be quiet.
Officer Darren Wilson suffered mightily and will feel the repercussions of the cop haters, liars and evil doers for the rest of his life.  The least that I owe him is to continue to tell the truth.
The impact of this lie struck me to the core at a recent lunch conversation with an intelligent, professional business person.  In passing, the issue of Ferguson came up and when I told him that the Department of Justice had determined that "hands up…don't shoot" never happened, he looked at me strangely and refuted it.
He told me that he "assumed" it happened because the "city was being burned down."  Then it hit me.  If an intelligent guy that is supportive of law enforcement believes the lie then it must be one of the biggest lies ever told.  He had no agenda, he did not hate cops and he just believed it.
That is the power of the media and when something is repeated over and over, to most it just becomes the truth.
Of course the lies are held on to for a reason.  They form the basis of every racist police argument out there and entire organizations thrive on the lies.  The facts and data behind police shootings do not support anything close to institutional racism within law enforcement but take a few high profile incidents and put them on the news every night, the "lie of Ferguson" becomes proof positive that police are racist.
If you made it this far in the article, just like my friend, you may be questioning my statements on Ferguson.  Here are some facts straight from the Department of Justice Report and if you think the DOJ went to Ferguson to "help and hide" the truth, remember, they sent representatives to Micahel Brown's funeral.  The same Michael Brown that committed a robbery by force just before attacking Officer Wilson.
Facts from the Department of Justice regarding the shooting investigation of the shooting death of Michael Brown are below:
"The encounter between Wilson and Brown took place over an approximately two-minute period of time at about noon on August 9, 2014."
Surveillance footage of a convenient store shows Brown stealing several packages of cigarillos. When the store clerk tried to stop Brown, "Brown used his physical size to stand over him and forcefully shove him away." Dispatch put the call out of the incident, Officer Wilson heard that call, and he stopped Brown because he met the description of the suspect.
Officer Wilson saw the cigarillos in Brown's hands and he immediately called for backup prior to stopping him.
Wilson attempted to open his car door when Brown pushed it shut, reached in and started "punching and grabbing" Wilson.
Brown also grabbed Officer Wilson's gun and attempted to gain control of it.  During the struggle for the weapon, Officer Wilson fired one round and it struck Brown's hand.  He then fled the scene.
Witnesses observed Brown inside the car fighting with Officer Wilson.  Injuries on Wilson also support this and Brown's DNA was on Wilson's weapon, proving that he did indeed grab it.
"The autopsy results confirm that Wilson did not shoot Brown in the back as he was running away because there were no entrance wounds to Brown's back."
Brown ran approximately 180 feet with Officer Wilson in pursuit until he turned around and ran towards Wilson, at which time he was fatally shot.
"….several witnesses stated that Brown appeared to pose a physical threat to Wilson as he moved toward Wilson. According to these witnesses, who are corroborated by blood evidence in the roadway, as Brown continued to move toward Wilson, Wilson fired at Brown in what appeared to be self-defense and stopped firing once Brown fell to the ground.
"Brown tested positive for the presence of cannabinoids, the hallucinogenic substances associated with marijuana use."
From the autopsy to the DNA to witness accounts, there is no question that Michael Brown posed a significant threat to Officer Wilson.  The witnesses in the case attack the  media account and you likely have never heard what they had to say.
"Witness 102" saw Wilson bent over in the police car and fighting with Officer Wilson.  When he heard the gunshot, he said that he "thought that he had just witnessed the murder of a police officer."  He went on to say that "Wilson then chased Brown with his gun drawn, but not pointed at Brown, until Brown abruptly turned around at a nearby driveway. Witness 102 explained that it made no sense to him why Brown turned around. Brown did not get on the ground or put his hands up in surrender."
Not all of the witnesses were friendly towards the police. "Witness 103 is a convicted felon who served time in federal prison, and has a son who was shot and injured by law enforcement during the commission of a robbery. Witness 103 expressed concerns because there were signs in the neighborhood of Canfield Drive stating, "snitches get stitches."
Witness 103 saw Brown punching Wilson in the car and he saw Officer Wilson give chase "with his gun held low. Witness 103 saw Brown turn around with his hands to his side (not up) and he then saw Brown "move fast" towards Wilson before he fired shots.
I could continue but I won't.  I will encourage you to read the complete report. 
It contains information that you have likely never heard and I hope it does what it did to me.  I hope it shows you just how dangerous the lies have been.  Ferguson has been used as a backdrop by activist groups, policy makers and politicians to prove that law enforcement is racist and out of control but the real proof is in the actual facts of the investigation.  An investigation conducted by local authorities, the FBI and a Grand Jury.
I am ashamed that I have been so silent but those that pushed this lie and continue to push it are evil and enemies of this great country.  They are using lies to attack the very men and women tasked with keeping communities safe and it has had an impact.
That impact has been the lack of police recruits, increased dangers to law enforcement and police morale at an all time low.
What continues to happen "post-Ferguson" does not have to be but it will take extreme courage to stand up for the truths in law enforcement.  I'm encouraged that some are currently standing up.  Milwaukee Police Chief Ed Flynn recently stood up for his officers when they were attacked for being racist and others are doing what has to be done.
Standing up for the truth does not get in the way of law enforcement continuing to reform in order to be as professional as possible but without honesty, actual reform will never occur.  Those that continue to lie about Ferguson actually hurt the cause of police reform.
It is my hope that law enforcement learns from Ferguson but not in the way some would have us learn.
We should learn that the truth matters and standing up for our officers, when they do nothing but protect their life from a violent criminal, matters.
---

You can find out more about the Courageous Leadership Seminar and the upcoming book here.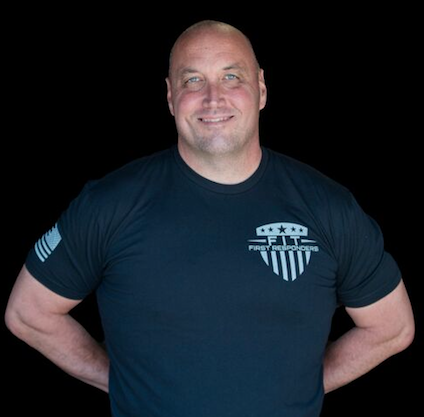 Travis Yates is a writer and editor at Law Officer. An ILEETA Trainer of the Year, his Seminars in Risk Management & Officer Safety have been taught across the United States & Canada. Major Yates is a current Doctoral Student in Strategic Leadership and is a graduate of the FBI National Academy. He is the Director of Training for Law Officer  (www.lawofficer.com) and the Founder of the Courageous Leadership Institute (www.stopcowards.com), providing leadership consulting and training to law enforcement around the world.