The photo of Port Authority Police Officer Christopher Amoroso escorting victims from 9/11 out of the World Trade Center shortly before he went back into #2 World Trade Center has been seen by millions.  Lt. Colonel Dave Grossman (ret.) ends most of his talks with a picture of Chris and if you haven't seen it in his presentation, then you need to.  Here is what I heard the last time I saw Colonel Grossman:

His name is Christopher Amoroso and at this point on that awful day the smoke and flames are so intense that they are coming down from those buildings in waves. People there tell me the media there never properly captured it.  They are coming down from both towers.  They are coming down from all four sides.  Strangers were holding hands on their way down, comforting one another. It take s along time to die from 90 floors up.  Every second is filled with despair.  The sky behind is filled with falling bodies. The air above them is filled with smoke and flames  and the awful sound of those bodies hitting the sidewalk are echoing in his ears.  

Now do you understand why he looks like that?  
What makes him different from the other two?
What's he got to do that they don't?

He's going back.  He's going to drop off the pregnant lady.  He's going to go up that building the fourth time.  The building will fall and Christopher Amoroso will not  come home to his wife and baby tonight.  He will never come home again.  

Do you understand that nobody told him to go?  
Why does one man go up the steps again and again and again and again while thousands are coming down?
Because he's a sheepdog.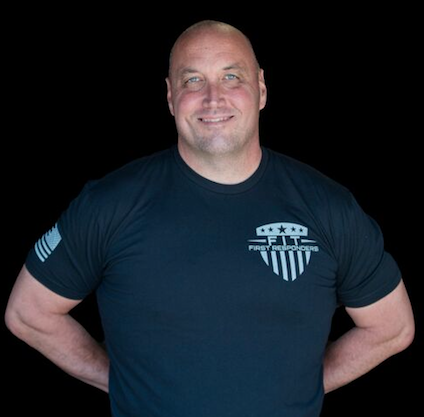 Travis Yates is a writer and editor at Law Officer. An ILEETA Trainer of the Year, his Seminars in Risk Management & Officer Safety have been taught across the United States & Canada. Major Yates is a current Doctoral Student in Strategic Leadership and is a graduate of the FBI National Academy. He is the Director of Training for Law Officer  (www.lawofficer.com) and the Founder of the Courageous Leadership Institute (www.courageousleader.org), providing leadership consulting and training to law enforcement around the world.