22 Push-up Challenge Brings Awareness To Suicide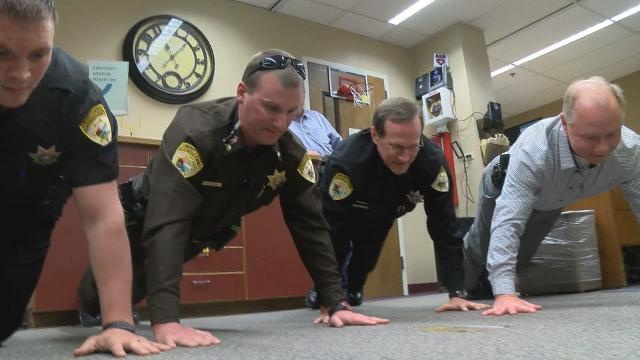 22 veterans commit suicide every day. In an effort to spread awareness about the problem, law enforcement officers around the country are joining in on the 22 Push-Up Challenge, which means doing 22 push-ups for 22 days.
Nate Koehn served in the U.S. Army for 12 years and launched the 22 Veterans Daily Challenge in 2015.
Koehn wants to challenge others to do a push-up for each victim of suicide each day.  He encourages others to post it online and has joined up with the charity, 22KILL to help raise awareness of veteran suicide. 22Kill has also created a goal of reaching 22 million push ups.
Law Enforcement is joining the efforts and unfortunately is all to familiar with the issue of suicide.
Law Officer Editor In Chief Travis Yates encourages each officer to not only take the challenge but take care of each other,
"I have spent my entire career training and speaking on officer safety issues but the truth is, we are burying more cops due to suicide than we are bad guys.  I am tired of it and every agency must take this issue just as serious as they do other safety initiatives."
A Challenge Page has been launched on Facebook for others to post their videos.
Law Officer Columnist and Criminal Investigator, M.C. Williams has been participating in the challenge.  He has been doing 23 push-ups a day, adding one for law enforcement.
"The #22pushups campaign is a way for us to not only bring awareness to the fact that at least twenty-two of our veterans take their lives on a daily basis but it is also an opportunity for those of us serving in law enforcement to bring attention to the issue of police suicide as well.  We suffer at least one a day.  Let's be proactive in coming alongside our own through peer support, chaplaincy and related efforts.  One is too many."