Motor Escorts: Another Take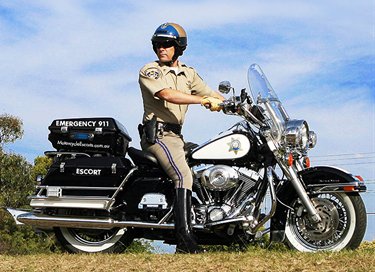 Editor's note: In his recent column, Motor Escorts: Worth the Risk, Capt. Travis Yates argued that, duly considered, motorcycle escorts were probably not worth the risk they required motor officers to take. Capt. Yates received a reply to this column, from Staff Sgt. Adam Norrie of the Toronto Police Service, which took issue with his conclusion and which follows below. 
---
Let me be clear at the outset. This is not a personal or vindictive attack on Capt. Yates or his opinions. On the contrary, I believe healthy, constructive and open debate can and should occur to continue to improve and strive for excellence in our chosen profession: law enforcement. I'm a fan and supporter of Capt. Yates and his mission to reduce the loss of life in the police profession and have been fortunate enough to hear and enjoy him speaking at an event.
Let me declare and put my bias out front right now. I love police motorcycle operations and have been fortunate to have spent 25 of my 28 years in law enforcement involved in police motorcycle operations.
I believe a good risk-management strategy imposes a rising standard of quality, well beyond what's required to meet the minimum standard. As such, we must continue to question how and why we do business.
I'm an advocate of a common management problem-solving technique called "The 5 Whys." Credit for this system is given to Toyota Founder Kiichiro Toyoda's father Sakichi who first used it in the 1930s. The 5 Whys System applies a very simple philosophy to identify the root cause of a problem by peeling away layers of symptoms by simply repeating the question: "Why?" Five times is the rule of thumb but sometimes you may find the issue with fewer or more times of asking the question.  Anytime I ask a question about why something is being done and get an answer like, "That's the way we have always done it," I start to get antsy.  In the modern policing environment that kind of answer isn't acceptable. We must be able to articulate how and why we do things, every time, all the time.
Escorts. There are many different kinds and varying motivations for doing them. Some are legitimate and required by law, and others are the result of political, historical or other influences that motivate them.
Unequivocally, I believe escorts are the most dangerous type of riding police motorcycle officers can engage in. However, I believe there are certain types of escorts that should be conducted by motorcycles.
There are dignitary escorts. Canada, the United States and 166 other countries are signatories to the 1973 United Nations Convention on the Prevention and Punishment of Crimes against Internationally Protected Persons, including Diplomatic Agents. This Convention provides an obligation on host countries to protect Heads of State and diplomats from attack at official premises, their private accommodation or their 'means of transport." Sites and locations can be secured and hardened to protect the dignitary. History and experience have shown us that the most vulnerable time for a dignitary is during their transportation.  So, much personnel and financial resources are invested in this security field.
There are safety escorts. These escorts provide safe passage for the individual, group or item for the greater good of the community including the participants. Many jurisdictions legislate a requirement for escorts that fit this criteria. An example of this in my jurisdiction is oversize loads. Due to the potential danger to the public by the movement of large and dangerous loads the carrier must acquire a permit (that restricts times, routes, etc.) and mandates the requirement of a police escort.
There are historic, convenience and vanity escorts. Due to historic patterns and various business models, it's become possible in some jurisdictions to buy or procure an escort because you want one. Funerals, celebrities or people of influence hire police (moonlighting) or private escort companies to ensure them or their group get to where they are going on time and together.
Are escorts necessary? I believe most rational people can understand why the police provide escort to Internationally Protected Persons. I believe and I hope Capt. Yates would agree that it's high time many jurisdictions and their police agencies take a hard look at why and how we provide escorts and make some risk versus reward determinations. A frank resolve to establish a legitimate threshold of whom and what deserves a police escort needs to happen to minimize risks for our organizations.
Procedures and policies must be established and enforced to ensure safety. My jurisdiction provides escorts for funerals but there are parameters. There are vehicles to escort officer ratio limits and the officers must have had specialized training. The funeral escorts employ a less risky escort technique called 'Bump and Go" and the escorting officers use cars! This is also the system used for the wide load escorts described earlier.
Are motorcycles the right platform for providing escort duty? Absolutely they are—for certain types of escorts.
Due to the risk and threats against a dignitary motorcade, they must be fluid and dynamic in nature. In congested urban areas the police motorcycle (driven by a highly skilled and proficient rider) is the only tool that can currently get the job done. Due to the motorcycle's small physical footprint and its manoeuvrability, the rider can negotiate through the traffic and get to the intersection, take control of it and clear the roadway before the arrival of motorcade. It can be done with a patrol car (due to our geographic location, my department's motorcycles are only used for a certain amount of the calendar year, and so we have to use cars in the winter months), but it requires much more lead time to allow the patrol car to push its way to the intersection. Subsequently, this requires more resources, and almost always results in a bottle neck of congestion that causes the motorcade to have to slow, exposing it to more risk.
Again, the best motorcades are fluid and change on the fly. This allows the security commanders to change the route as necessary, keeping possible attackers guessing. Because patrol cars need that extra time and space its limits, the motorcade's ability to be dynamic and fluid make it the logical choice. Motorcycle escorts do it best.
The risk: If we believe that using a motorcycle is the best way to provide escorts for certain people, then we must address the risk. The reasons that make the motorcycle the best tool for dignitary escorts are all the same reasons that the motorcycle and its rider are exposed to extreme risk doing escorts. They are inconspicuous, limit some vision and possess limited safety systems. All this exposes the escorting officer to heightened risks. How do we manage this risk?
Risk management leaders like renowned California Highway Patrol Captain (Ret.) Gordon Graham focus on pre-incident prevention of problems using a philosophy that states, "Prevention is better than correction." To apply this philosophy to police motorcycle operations we must evaluate our job function using a risk/frequency analysis. We must analyze and assign all aspects of our job function into one of the following four categories:
Low Risk/Low Frequency
Low Risk/High Frequency
High Risk/High Frequency
High Risk/Low Frequency
History and research show us that if we have good people, policies, training, supervision and discipline we will have success in Categories 1, 2 and 3.
A good police motorcycle program will have success if it contains:
Good People – A relevant selection process that identifies people with solid character traits.
Good Policies – Established, reasonable and communicated parameters and standards expected of your officers.
Good Training – Sound initial basic instruction and ongoing, progressive training periods.
Good Supervision – Well-rounded knowledgeable supervisors who are going to keep the group on track and provide the tools and an environment for success.
Good Discipline – Fair, impartial enforcement of rules with a clearly defined delineation between what is acceptable and what is not acceptable conduct.
If you have a weakness in any of these foundational areas you are exposing yourself to preventable risk and the odds will eventually catch up to you. If all of these aspects of your program are solid, then your vulnerability to risk lies mainly in the portions of your job that fall into Category 4, identifiable as High Risk/Low Frequency. I believe motorcycle escorts fall into this fourth category.
Mitigating the risk: Now that we've identified the risk, how do we minimize it? If we're going to commit our people to such a hazardous environment, we ethically, morally and legally have a duty to prepare them to be effective escort officers. We must train and equip our officers for these events. That's what we do for other high-risk/low-frequency tasks like SWAT and explosive disposal. The motor officer's qualification and activities must be contingent on the fact that every individual has regularly demonstrated a proficiency level necessary to function safely during escorts. Their equipment should be the best available and maintained to the highest standards.
I believe motorcycle escorts should be restricted to those that are legislatively required. Riding on escort duty is the pushing the envelope of risk. Only our best of the best can and should be doing them. These officers should be trained to the highest standards, be tested to these standards regularly, and be held to strict procedures or guidelines. There is no greater responsibility than safety and we need to constantly review and scrutinize how we conduct ourselves in risky ventures. Thank you Captain Yates for stimulating this healthy debate, hopefully we can prevent some unnecessary injuries or deaths.
---
Andy Norrie is a Staff Sergeant with the Toronto Police Service in Toronto, Canada. He has been a member of the Department for the past 28 years and has over 25 years of experience on police motorcycle duty. Andy is an instructor for the Canadian Harley-Davidson Police Motorcycle Training Program. He has attended and participated in various police motorcycle training and competition events since 1991 and is one of the founders of the Great Lakes Police Motorcycle Training Seminar based in and around the province of Ontario, Canada. For more information or to contact the author you can e-mail him at: andy.norrie@torontopolice.on.ca.