Ford Announces Hybrid Police Car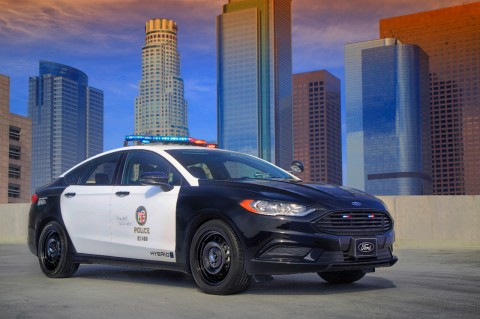 Ford Motor Co., which sells more police cars in the U.S. than any other automaker, says it will offer a police pursuit version of the hybrid Fusion midsize sedan, in response to requests from cities nationwide. The new car, with its 2-Liter four-cylinder engine and 1.4 kilowatt lithium-ion battery, is expected to get 38 miles per gallon of gas in combined city-highway driving. That's 20 mpg more than Ford's current police car, the Taurus police interceptor.
The hybrids won't be as fast as the Taurus with a 3.7-Liter turbocharged V6, but Ford expects it to be quick enough to earn a pursuit rating when tested later this year by the Michigan State Police and Los Angeles County Sheriff's Department.
The new vehicle will be the first hybrid sedan with full pursuit capabilities. That means the car is certified by police agencies to be tough enough to handle police pursuits for longer periods at different speeds and over obstacles such as curbs and flooded intersections.
The Police Responder Hybrid Sedan uses an efficient Atkinson-cycle 2.0-liter engine with an electric motor fed by an advanced lithium-ion battery. The hybrid is calibrated for law enforcement's unique duty cycle and will run in battery-only mode up to 60 mph. The car automatically switches to maximum performance – with the engine and battery working at peak acceleration levels – when needed.
Ford said at $2.50 per gallon for gas, the hybrid would save a police department $3,877 per year in fuel costs per vehicle. The price of the hybrid, available in the fall of 2018, isn't being released just yet.