MLB Player Involved In Fatal Crash With Stolen Police Car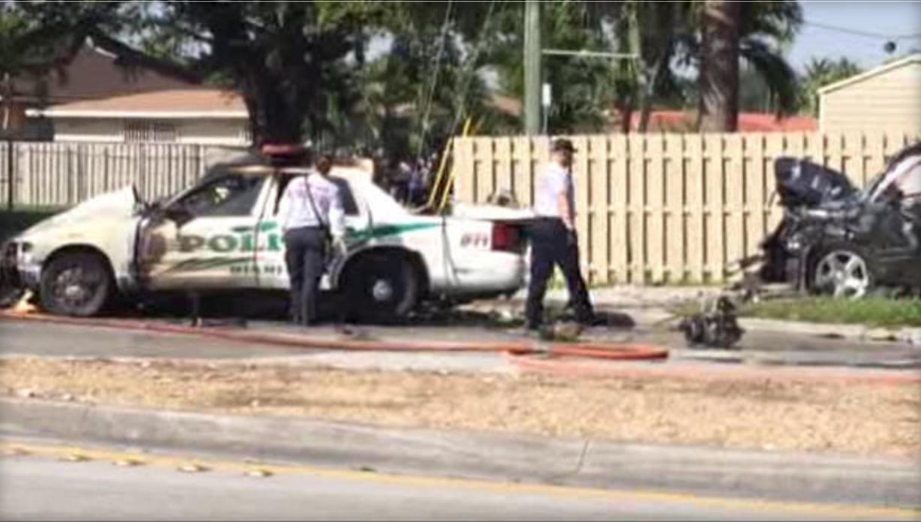 Photo Courtesy:  CBS Miami
An Atlanta Braves infielder and his family were involved in a fatal crash with a stolen police cruiser in Florida over the weekend, leaving his two young children in serious condition, according to published reports.
Second baseman Sean Rodriguez, 31, was driving his wife, Giselle, and their kids in a black Chevy Suburban around 1:45 p.m. Saturday, when a man in a stolen Miami-Dade police car T-boned them near Southwest 99th Street and Coral Way in West Miami-Dade, WSVN7 News reported.
[sc name="Article Mobile Ad" ]
The police car then burst into flames, killing the unidentified man.
Rodriguez, a Miami native who recently signed an $11.5 million contract with the Braves, was not hurt in the accident.
But his wife and two children, ages 2 and 8, suffered serious injuries.
Giselle was rushed to Kendall Regional Medical Center in Miami, where her condition was upgraded to fair.
The children remained in serious condition at Nicklaus Children's Hospital, but were expected to survive.
The Braves issued a statement on his behalf, stating: "We are aware that Braves player Sean Rodriguez and his family were involved in a very serious car accident Saturday night in Miami, Fla. At this time our thoughts and prayers are with the health and well-being of Sean's family as they look to recover."