Texas Law Enforcement Faces 'Recruiting Crisis'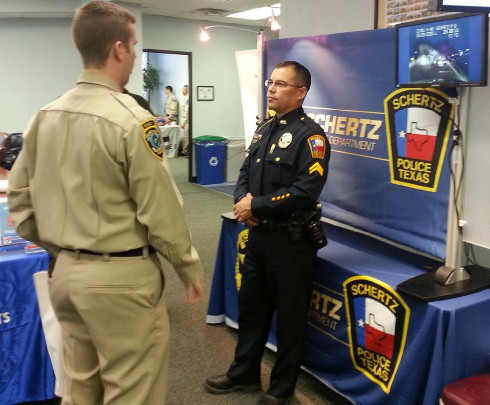 In the early hours of 2017, a bullet proof vest saved the life of a police officer who was shot in the back in Calvert, Texas Sunday.
Texas led the nation is the number of law enforcement officers killed in the line of duty in 2016.
According to the National Law Enforcement Officer Memorial Fund's annual report, Texas saw 17 officer fatalities last year.
"It's sad and it's always disturbing that we lose so many officers," but not surprising, said Kevin Lawrence.
The Executive Director of the Texas Municipal Police Association (TMPA) said Texas almost always loses more officers than any other state in the country.
Now, Lawrence said the job of a police officer is "more dangerous and it's more difficult than it ever has been."
The annual report cites another troubling statistic. Nationwide, law enforcement deaths in 2016 rose to the highest level in five years.
"Absolutely there's been a huge increase in the number of officers killed by gun fire," Lawrence said.
Five of the 17 officers killed in Texas were gunned down in the Dallas attack over the summer. Three were shot through the vest.
Lt. Governor Dan Patrick wants to outfit every law enforcement officer across the state with better body armor, at an estimated cost of $15 to $20 million.
"We think that's a great start," Lawrence said. "Officers need better equipment, better training, we need better staffing levels. We are having a recruiting crisis in law enforcement," said Lawrence.
Texas lawmakers will also take up a bill that would make it a hate crime to target police officers or any first responders.
"There for a while it was pretty popular to just blame the police for everything, for all the ills of society," Lawrence said.
Lawrence said police agencies across the state are seeing "fewer and fewer qualified individuals trying to get into law enforcement."
According to Lawrence, that's caused a number of police agencies and academies to "lower their standards" in order to fill positions.
Texas is not unique which is why Law Officer has launched the Law Officer Partner Network.  According to Editor In Chief Travis Yates, the opportunity is just what a struggling profession needs in an era where police recruitment is as hard as it has ever been.
"Agencies not only need hundreds of potential recruits to select the right citizens to wear the badge but there is a huge expectation that departments will recruit diversity and the Partner Network opens up the opportunities in that agency to do just that."
In addition to the custom recruiting website that the network provides, Yates says that joining enables the agency to "target" their recruiting efforts in parts of the country where gaining diversity is more probable.
"A recruiter may not be able to visit the homes of thousands of important prospects but through the power of our network here at Law Officer, we can place your website in the homes of those that you want to reach and in certain parts of the country that you want to reach them," Yates told us.
You can find details on how Law Officer is helping agencies recruit by visiting their job placement section.