New Little Rock Police Officers Get Surprise Bonus Money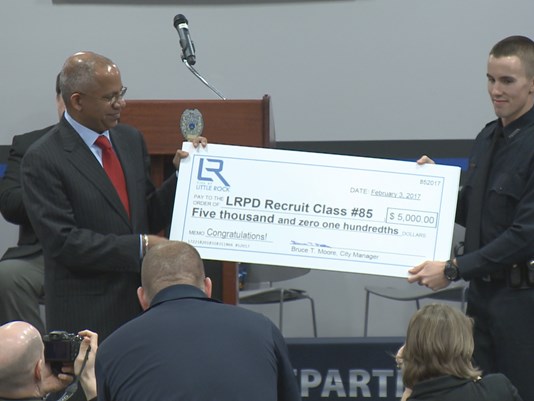 There was a special surprise at Friday's Police Academy graduation.  Newly sworn in Little Rock Police officers each walked away with a big check.
Graduation day at the Little Rock Police academy took a surprise turn for new recruits of the Little Rock Police Department when Little Rock City Manager Bruce Moore made a big announcement.
[sc name="Article Mobile Ad" ]
Each graduating officer got a $5000 check.
Moore announced the new incentive to attract officers to the department.
The Little Rock Police Department says they are down 50 to 60 officers.  After 24 weeks of preparation, 8 recruits graduated Friday.  Officer Nathan Lee, the top recruit in his class says he's ready for the challenges ahead.
"None of us were expecting it.  It was a big blessing.  I think we were all totally shocked whenever we heard the news," said Officer Lee.
Moore says these men and women deserve it.