ILEETA 2017 Opening Ceremony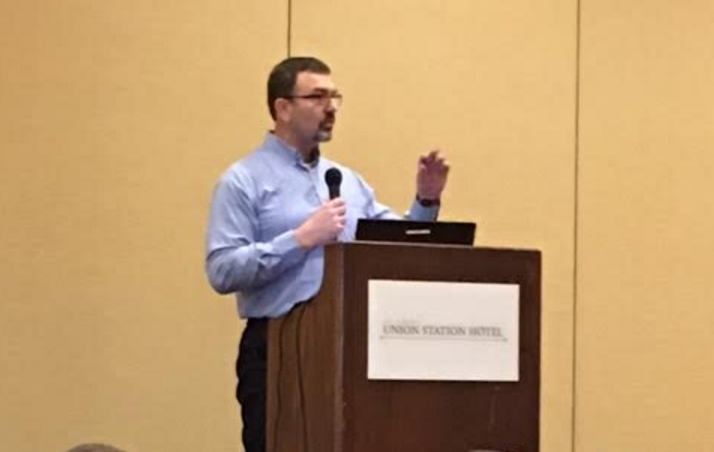 [vc_row][vc_column][vc_column_text]Photo:  ILEETA Deputy Executive Director Brian Willis addresses the crowd at the Opening Ceremonies.
---
[/vc_column_text][vc_video link="https://www.youtube.com/watch?v=eKPp03CsOfM"][vc_column_text]The International Law Enforcement Educators and Trainers Association (ILEETA) has launched in St. Louis (MO) and it started with inspiring messages from Executive Director Harvey Hedden and Deputy Executive Director Brian Willis.  Immediately following the presentation of colors by the St. Louis Metropolitan Police Department Honor Guard, Coach Bob Lindsey, a training legend and former winner of the Law Officer Trainer of the Year, said a powerful invocation.  Willis then took to the stage to encourage those in attendance to not just use networking to get "100 business cards a day" but to truly invest in a few instructors around them.
The highlight of the opening ceremony was the presentation of two ILEETA Awards.
The 2017 ILEETA Lifetime Achievement Award was given to Jim Lindell.  A retired Kansas City (MO) police officer, Jim has spent close to five decades dedicated to law enforcement training. A mentor to many and inventor of the "Lindell Weapon Retention System" and pioneer in LVNR, Jim founded the National Law Enforcement Training Center in 1981 and has given his adult life to training.  Jim spoke briefly to the audience and in usual fashion gave the credit to his success to the myriad of trainers that he has learned from himself.
In 2007, ILEETA launched the Ed Nowicki International Trainer of the Year Award with the first recipient being the founder of ILEETA and law enforcement legend Ed Nowicki.  Additional winners include current and former Law Officer contributors Eric Dickinson, Jeff Chudwin, Brian Willis and Dave Spaulding, just to name a few.
The 2017 ILEETA Trainer of the Year is Chandler (AZ) Sergeant Daniel Greene.  Greene is a 21 year police veteran currently assigned to patrol but it is his passion for training that brought him to the attention of ILEETA. He has trained law enforcement for 19 years and is the current Vice-President of the National Association of Field Training Officers (NAFTO). Dan has had extensive training in the fields of Leadership and Ethics through institutions such as AZPOST, National Institute of Ethics, Jack Enter's Proactive Leadership Strategies, Franklin/Covey Seven Habits of Highly Effective People and Franklin/Covey The Nobility of Policing.  Dan addressed the audience and humbly thanked his wife and children for their support.
ILEETA was created to meet the needs of those that educate and train the men and women who protect society. More than 200 courses are offered during their annual conference.  ILEETA 2017 continues the rest of the week.  Check back with us here at Law Officer as we continue to bring you updates.[/vc_column_text][/vc_column][/vc_row]