Avoiding The Detour Of Social Justice Advocates And Politicians In Police Training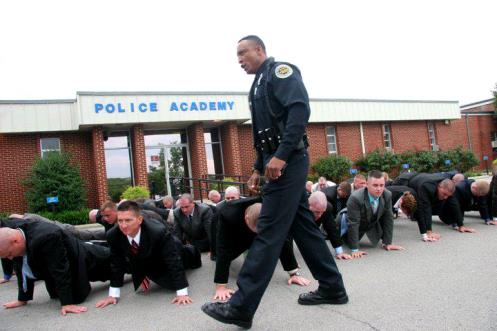 "It is not the critic who counts; not the man who points out how the strong man stumbles, or where the doer of deeds could have done them better.  The credit belongs to the man who is actually in the arena, whose face is marred by dust and sweat and blood, who strives valiantly; who errs, who comes short again and again, because there is no effort without error and shortcoming; but who does actually strive to do the deeds; who knows great enthusiasms, the great devotions; who spends himself in a worthy cause; who at the best knows in the end the triumph of high achievement, and who at the worst, if he fails, at least fails while daring greatly, so that his place shall never be with those cold and timid souls who neither know victory nor defeat."  Citizenship in a Republic – Theodore Roosevelt, 1910
This quote by Theodore Roosevelt, meant to spur American citizens and the world on to improve their lot, was driven by his belief that our republic was sustained by the hard work, individual involvement and values of the American people.  He believed it took someone who was heavily involved in a situation and had the courage, skill and intestinal fortitude to solve its problems, not someone who sat on the sidelines making the decisions without skin in the game.  This is a situation we find ourselves in when we stopped looking at facts and started operating on emotion.  It is this emotion that leads social justice engineers and politicians who strive to direct the training of law enforcement today.
If you have not faced the fear of the unknown on every call, chased the man of unknown danger, stared into the eyes of evil and fought with someone who does not want to go to jail AGAIN then you cannot begin to understand the walk of the police warrior.
When I first became a police officer, you were only required to attend a forty hour course to perform your duties and then obtain the rest of your training within the first year. When I talked to the "old timers" about training, they laughed and said they were given a badge and gun and told to stay out of trouble.  Times were changing and we were required to go through field training but our training officer was assigned at the literal "draw of the short straw" at the beginning of each shift and someone decided when they thought you were sufficiently trained.  On range day, with our revolvers, you were not allowed to dump your brass on the line, you dumped it into one of several coffee cans placed in the stall for that reason. The only advanced training was on your own at the local dojo or tagging along for some on the job training with an experienced officer.
The development of training and a training mindset within law enforcement has been a wonder to watch.  There have been great strides in books, courses and an appreciation of the benefits of investing time and money into the development of careers and the citizens we served.  Everything from Chuck Remsburg, Denny Anderson, Pierce Brooks,  Calibre Press, LETN and "Buck Savage" in my early days have brought law enforcement training to a high level today.  The focus of the training was to make officers better and generally developed by those within law enforcement or those who studied law enforcement closely.
Law enforcement, by its nature, is difficult to understand or relate to because of the necessary blend between service and the violence that is sometimes required and always present. It is for this reason that there is such a heavy bond among law enforcement.  It is that bond that ignited the push for training.  Watching officers get hurt, killed or in trouble pushed those with the skills and desire to teach out of the station and into the training arena.  Those mentioned above and many others were the encouragement to others to use their experience and knowledge to improve the way we work.
Today we have an incredible cadre of experienced trainers who have gone beyond the how and now study the why.   I think about Ken Murray, one of the developers of Simunition and a trainer who, in his book "Training at the Speed of Life" is able to give us a look into human reaction to life threatening conditions. There is Bill Lewinski and his Force Science Institute for the scientific study of human performance under stress and how the mind functions specifically in relation to the police function.  Alexis Artwohl delves into our minds to help us understand how our brains process things to make us remember, forget or cope with the stress.  Patrick Van Horne and Jason Riley teach us how to stay "Left of Bang" by honing our skills on reading people and situations.   And of course there is Chip Huth and Jack Colwell who, in their book "Unleashing the Power of Unconditional Respect", remind us of the power of treating people with respect and the benefits that we get from this powerful tactic.
This is an incredibly short list but a powerful example of those who are actually helping to improve law enforcement and the training we receive.  These trainers and many others like them operate from the arena where their skills are honed, not in the spectator's seat where the critic is quick to judge and develop a plan that is not based in the reality of the arena.  Law enforcement training is on the cutting edge and not in need of social justice critics and politicians who have been wrong in almost every criticism or training need they have offered.  If these observers really want to help, let them provide the funding so that the real training we need can be brought by those who know the needs and how to meet them.