Watch Dramatic Footage: Police Officer Saves Man In Burning Car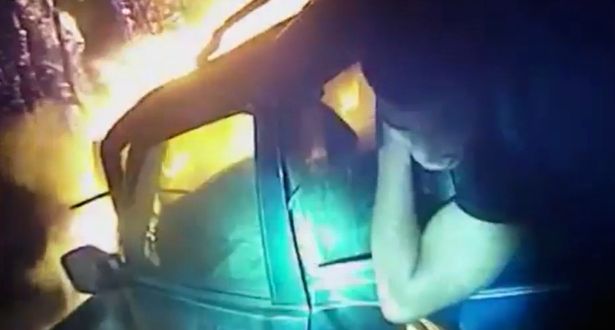 A Senior Police Officer in Athens, Georgia was working early Tuesday morning when he responded to a call in a nearby neighborhood. When he arrived, he realized just how much worse the scene really was, however, no was expecting the officer's shocking next move.
Dan Whitney has a knack for being in the right place at just the right moment. In fact, when he responded to a call about a vehicle that crashed into a tree at 3 a.m. on Tuesday, he had no idea that his decision making within the next few seconds would forever change lives.
The Mirror reports that Whitney rushed to the scene in an Athens suburb, discovering a totaled SUV on fire. The officer's body cam captured him scrambling for his fire extinguisher and desperately trying to put out the scorching flames. Unable to quell the fire and realizing the vehicle was just moments away from exploding, Whitney made one of the most important decision of his lifetime.
At about 1:30 into the footage, Whitney approaches the blazing vehicle, desperate to save whoever's still inside. Miraculously, a man survived the car bursting into flames, however, he's only seconds away from certain death. It was then that Whitney risked his own life to break the man free from the rear driver-side window and pull him out of the car seconds before the massive explosion blows his body cam loose.