Halloween Patrol Tips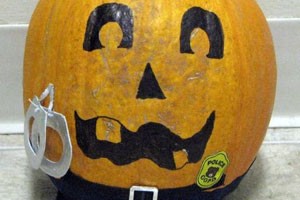 We asked our Facebook fans to tell us their No. 1 Halloween patrol tip. We got nearly 200 responses, some serious, some humorous—all helpful in some way.
Below, in no particular order, are 20 tips we thought you should know. We encourage you to share additional tips on our Facebook page too!
Happy patrolling this Halloween—stay safe!
1. Logan said, "Supervisors: Assign a pair to check on all registered sex offenders in your patrol area and ensure they have no decorations up and their porch lights are off. Everyone else: Don't hide in the station. Halloween is the most fun holiday to work. Have plenty of candy, stickers and Jr. Deputy/Officer badges to hand out."
2. Michael L. said, "Never say 'trick or treat' when addressing the driver of a vehicle pulled over for a moving violation."
3. Bob D. said, "Don't patrol with your window down. Watch for flying objects!"
4. Brady said, "Extra officers, preferably younger-looking ones, on foot patrol in plain clothes. They will blend in on the streets."
5. Rachel said, "Expect the worst, hope for the best."
6. Lee said, "Bring extra handcuffs, and always wear a vest."
7. Aaron said, "Make sure registered sex offenders aren't passing out candy."
8. Benjamin said, "We had a kid shot last year. The bad guy shot an AK 47 through the door and killed the kid. The guy was a drug dealer strung out on crack, and he thought his house was getting broke into. The father watched outside in horror. The kid was just knocking on the door for candy. Don't let your kids go out into sketchy neighborhoods, and please be careful when responding to calls."
9. Jake said, "Keep your eyes open and on the road. Having been touched by the death of a child who ran into traffic, I cannot stress that enough."
10. Matthew said, "Drive slowly. Park and sit in visible areas."
11. Kenn said, "Get out of the car."
12. Janice said, "No trick or treating in uniform while on duty!"
13. Michael M. said, "Beware of the idiots who actually wear real pistols and rifles as part of their costumes."
14. Colt said, "Remember if it's after 8 or 9 p.m., and there are groups of kids, they are up to no good. Also, if there isn't a kid with them, keep an eye on the adults in costume. Other than that, stay alert and use discretion."
15. Bob G. said, "Watch the overpasses …"
16. Lori said, "Call in volunteer reserves. Expect the unexpected and don't lose your sense of humor."
17. Ryan said, "My advice… RECON, RECON, RECON. Stay on your toes and if anything looks wrong, it usually is. When every fiber in your being tells you something is wrong, that's when you gotta move. Stay alert, stay alive."
18. Johnny said," It's fun to talk about taking candy and having a night off but Halloween is the best holiday/day of the year to teach children that you (the LEO) are there to protect them and are a good friend they can trust. I do apologize for being corny, but I am serious. This is a time when children will learn to respect local law enforcement. If anything, give out candy from the back of the PPV."
19. Mark said, "Don't expect to be able to catch the miscreants who egged your car on foot in their neighborhood. They know it better than you do."
20. Roger said, "Print off some warrants. It's the one day the ones with the warrants will come to the door!"