Courage Under Fire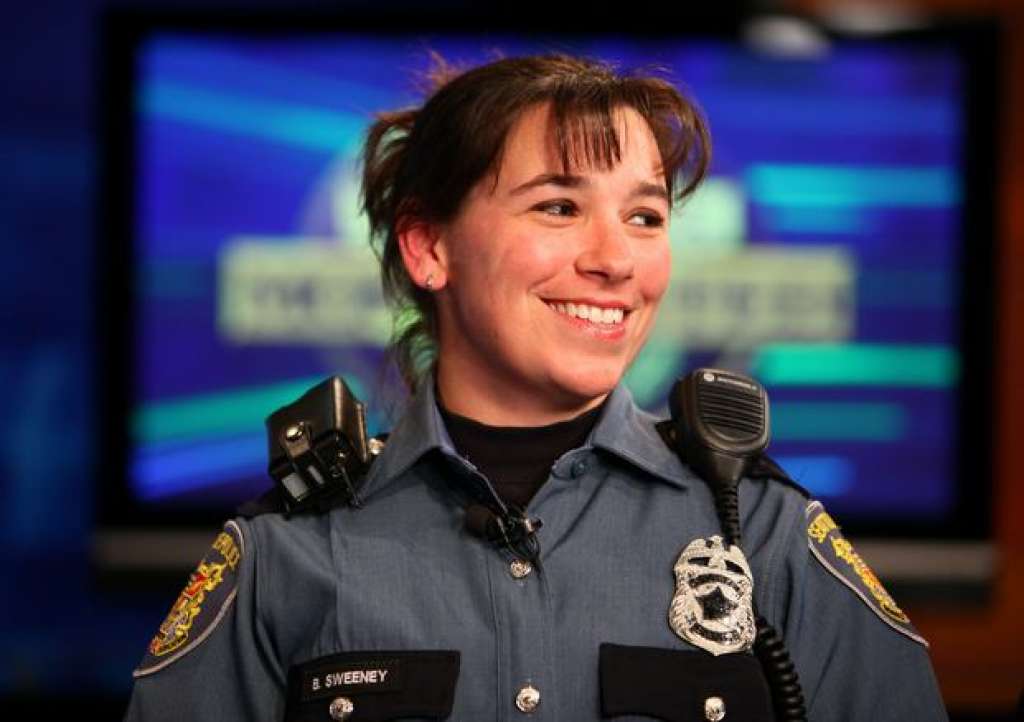 Photo:  Seattle Police Officer Britt Sweeney
Seattle Officer Britt Sweeney was only 30 days into her FTO training when a determined killer pulled up alongside the marked patrol car occupied by Sweeney and her FTO, Tim Brenton. Without warning or prelude, the killer leveled a .223 rifle at the two officers and began pulling the trigger. Sweeney was struck in the side of the head by a glancing round, causing her to instinctively dive down and to the right. Another round struck Sweeney in the back, hitting her body armor at an extreme level because she was bent so far over to the right, trying to minimize herself as a target. The round penetrated the body armor to the last layer before curving away from her body and traveling upward toward the roof of the patrol car.
[sc name="Article Mobile Ad" ]
Brenton was killed and, although Sweeney was seriously wounded, she rolled out of the car and returned fire, striking the suspect's car several times as it sped away. The bullet holes in the car would later prove important in identifying the suspect's vehicle. Considering her injuries, her limited experience and the intensity of the circumstances, Sweeney's actions were nothing short of heroic.
I had an opportunity to visit with her for about an hour after she was recognized during the Safari-land Saves Club presentation at the SHOT Show. The Saves Club recognizes a few officers each year who have been saved by body armor and then continue to engage and perform beyond expectations. Sweeney certainly fit that criteria.
Some takeaways we should all learn from Sweeney's experience: 1) Always be ready. Trouble will find you when you least expect it; 2) Complacency is not an option; 3) Wearing body armor is a must, and there's no advance warning as to when it might be needed; and 4) Be ready to engage and immediately put out a situational update. You must focus on what is important and get it done with commitment and follow-through. When Sweeney and her FTO were attacked, she immediately exited the car, returned fire and put out a description of the suspect's vehicle. Well done!
Remembering Below 100's Tenets
While at the Safariland event, I also got to visit with a Seattle officer who brought to an end one of the deadliest police shootings in our nation's history. Ben Kelly is the officer who confronted and killed Maurice Clements two days after Clements killed four officers in a Lakewood coffee shop. Kelly was called "lucky" by some news outlets, but in my review of the incident with him there was absolutely no luck involved. Kelly was spot on with his tactics and his thought processes. He acted decisively and maintained an awareness of his situation. He easily could have dropped his guard, but he stayed clearly focused on the concept of WIN (What's Important Now?)—and it paid off. A subject walking toward him turned out to be Maurice Clements, and Kelly took the offensive, challenging him and ultimately shooting him as Clements tried to pull a gun taken from a fallen officer. Even while calling for assistance, Kelly maintained a position of cover and directed responding officers into a position of safety.
During the SHOT Show, I had the opportunity to present an overview of Below 100 to a group of law enforcement educators during Law Officer's educational program. I'm pleased to say that the feedback was extremely positive, and we now have multiple requests to bring a Below 100 training course to several areas of the country.
I believe the T4T effort is essential to the success of Below 100. Trainers who participate in the program will receive specially developed materials, sample policies and insights into how best to assess and reorient organizational culture. Below 100 is not a one-trick pony. It's a well-thought-out system designed to address the areas of law enforcement losses that can most easily be modified to make positive change. If this appeals to you, check out below100 and read the related materials, especially the Below 100 overview. Also, make sure you download a Below 100 poster.
Remember: The life you save may be your own!  —Dale Stockton