Big Things in Little Packages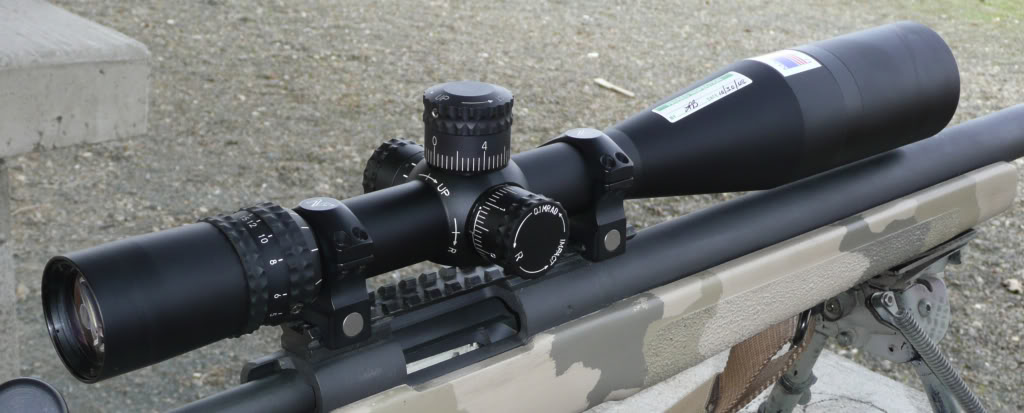 Nightforce, located in Orofino, Idaho, has been manufacturing riflescopes since 1992. Since that time, their lineup has expanded to include 10 different models.
Nightforce says the air-to-glass surfaces of each scope receive a proprietary broadband multi-coating that's applied to a tolerance level of .000005 inches, which is much higher than mil-spec abrasion tests call for. Each lens is hand-matched and aligned for optimum accuracy, while the riflescope tube is manufactured from a solid bar stock of 6061-T6 aircraft-grade aluminum alloy. This makes them two to three times thicker than other riflescopes, which means less stress on the components and better thermal stability.
Once constructed, every Nightforce scope receives testing that includes submersion in a water tank for 24 hours with a simulated pressure of 100-feet depth. The unit is then frozen to -80 degrees F, followed by rapid heating to 200 degrees F, all within a one-hour period. The scope design is also subjected to 1,250 Gs of recoil and impact to ensure no failure points appear.
Nightforce sent us its 1-4×24 NXS riflescope and its Unimount for my AR-15. The 1-4×24 NXS is the company's compact riflescope, and it's designed to meet the needs of officers who want to maintain the same vision field that open sights provide while having a precision aiming system. The unit offers magnification of 4X at 25 feet, but this is reduced to 1X at 100 yards and beyond, the range at which using a scope begins to provide the most benefit.
Sized at a reasonable overall length of 8.8″, you can easily move it around inside a patrol vehicle. It weighs the lightest of the Nightforce lineup at a sprightly 17 oz.
The 1-4×24 NXS features adjustment of 100 minute of angle (MOA) for both elevation and windage, with a click value of .250 MOA. The 1-4×24 NXS comes with illuminated reticles with nine illumination levels you can control with one of the side turrets on the scope. You can also choose between three reticle designs. Mine came with the Mil-Dot reticle. The riflescope came with dust caps on both ends, a riflescope dust cover and storage bag, and several tools for making adjustments.
The Unimount allowed for quick mounting on my AR-15's picatinny flat-top receiver. In fact, it took me longer to find the right hex wrench to take my folding iron sight off than it did to assemble and mount the Nightforce unit.
Turn on the illuminated reticle, and the crosshairs are very bright at the highest setting. Focusing and eye point position can also be adjusted. I didn't get a chance to shoot with the 1-4×24 NXS because of high fire-danger conditions in my area, but sight acquisition drills determined that transitioning from open sighting to scope sighting happened smoothly. My rifle has a fixed front sight, which I would have to replace with a folding unit if I were to use the 1-4×24 NXS on a regular basis. That's something to keep in mind if you use the AR-15's factory front sight.
Overall, I liked the 1-4×24 NXS. I would need more time with it to see how it functioned over the long haul, but it's a quality unit. It's not cheap (average price is $1,150), but when you consider what it will be used for, there's not a lot of room for compromise.

Nightforce Optics'
1-4×24 NXS Riflescope
Pros:
Easy to mount;
The illuminated reticle and the crosshairs are very bright; and
The size allows you to easily move it around inside a patrol vehicle.
Cons:
Price.
May require front-sight replacement.
CONTACT:
Nightforce Optics
1040 Hazen Lane
Orofino, ID 83544
Tel. 208/476-9814