Benchmade's Infidel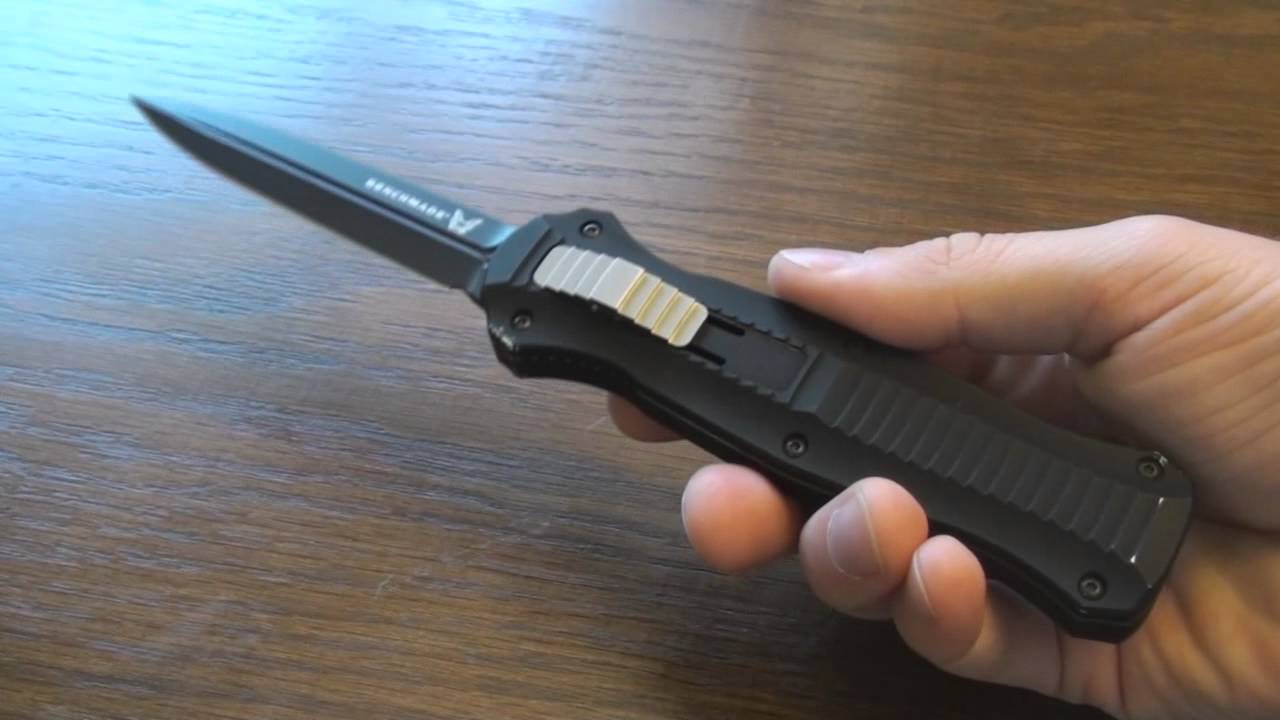 The Infidel is Benchmade Knife Company's highly popular, double-action, out-the-front (OTF) auto-opening knife.  Although it seems any auto-opening knife carries an exotic appeal for many people, an OTF auto-opener can draw the attention of a room full of cops as fast as a big screen TV on Superbowl Sunday. Benchmade's Infidel seems to not only be a crowd pleaser, but a fully functional emergency backup weapon as well.
(I have to admit, I love the moniker of Infidel that Benchmade bestowed upon this knife. But I digress … I must move on to the outstanding qualities of this marvel of engineering.)
The Design
The design of the Infidel is sleek, stylish and boldly in-your-face. The handle is machined from a block of 6061 T-6 aluminum, which is then anodized black.
The back of the handle, which features a removable deep-carry pocket-clip, is smooth. This prevents snagging on your pocket when drawing the knife. The front of the handle has an aggressive, shark-gill style of texturing that ensures a no-slip grip. Both sides of the Infidel have a built-in thumb indent that augments a saber style grip. The blade is opened and closed lightning fast by pushing or pulling the thumb slide.
The thumb slide is big and totally ambidextrous. It has a distinctive stair step texturing, which ensures it's easy to find, easy to orient by feel alone and provides a non-slip surface to actuate the knife.
I also must admit that before I received the Infidel, I was a little reluctant about carrying it with the way the blade deploys. I had fears of an accidental deployment, pushed by overpowering springs, which might impale the blade into my thigh or entertainment center. I now know that all my concerns were unfounded.
On some OTF auto-opening knives, the blade is under constant spring tension. This IMHO increases the possibility of an unintentional, and potentially disastrous opening. With this type of knife, the blade also has to be manually retracted (requiring both hands) each time it is opened, which I find to be an unacceptable idiosyncrasy.
The Infidel's blade is not under constant spring tension, and is opened and retracted by two separate coil springs. When the thumb slide is pushed forward, it compresses the opening spring. The forward travel then releases the blade, which is expelled by the now compressed spring and locked into place by two steel bars that close behind it.  The Infidel closes by pulling the thumb slide backward, which creates the opposite effect of the opening process. The thumb slide has to travel approximately 3/4 of an inch and with a meaningful level of thumb pressure to open or close the blade. It's unlikely you'll do this by accident.
While researching for this article, I ran across some opinions that criticized the Infidel's spring power as being lacking. Some felt it didn't open hard enough or fast enough. To those naysayers, I have this question: How fast and hard does it need to go? It opens and closes dependably — faster than the human eye can detect. I think the springs are calibrated perfectly. While powerful enough to open and close the blade reliably, the springs aren't powerful enough to accidentally impale your leg when opening.
Models Available
Like many of Benchmade's products, there are options in different models of the Infidel. Model 3310, pictured above, weighs in at 4.9 ounces and is 5.0 inches long when closed. It features a single edged, 3.95 inch, utility drop-point blade that is manufactured from S30V premium stainless steel. The 3310 is also available with a partially serrated blade, and you can also have either blade coated with a matte black, BK1 blade coating. Industry known for excellent corrosion protection, BK1 is also recognized for high levels of scratch resistance, which can protect the blade for years to come.
For those that want the ultimate defensive version of the Infidel, there's the model 3300. Identical to the model 3310 described above in all other attributes, the model 3300 features a double-edged, spear-point, plain-edged blade manufactured from high quality, D2 tool steel.  This model is also available with the aforementioned BK1 coating.
If the standard Infidel is a little too large for your taste, the model 3350 Mini-Infidel may be to your liking. Weighing in at only 3.4 ounces and with a closed length of 4.00 inches, the Mini-Infidel sports a 3.10 inch, double-edged, spear-point, plain-edged blade. The BK1 blade coating is optional here as well.

Conclusion
Overall, the Infidel is another example of why Benchmade is regarded as America's premiere source for auto opening knives.  If you're in the market for an auto opener (OTF or side opening), or any other premium grade knife, visit www.benchmade.com. They have a wide variety of products to fit nearly everyone's needs in preeminent quality cutting instruments.