Obscene Message On Deputy's Receipt Was "Mistake"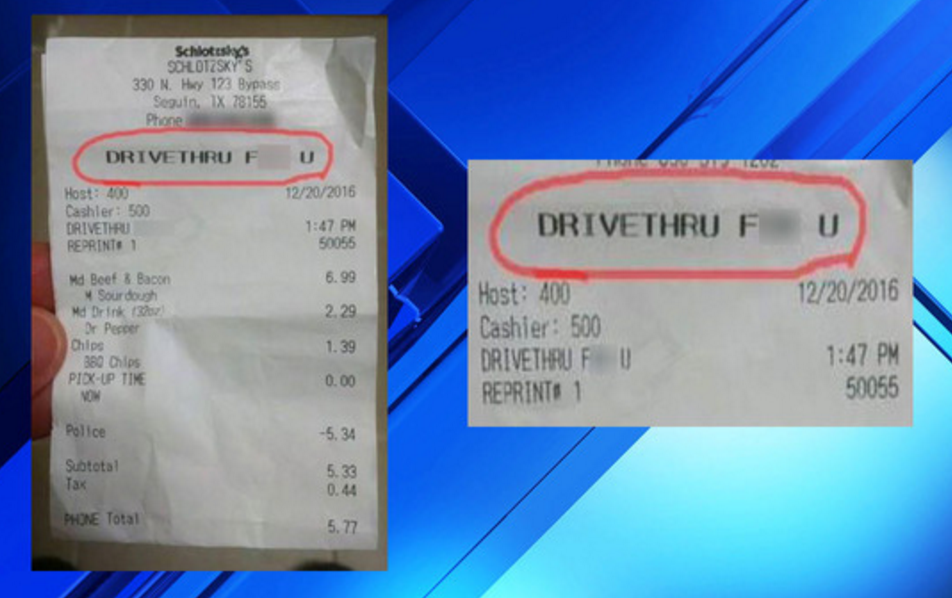 The Seguin (TX) Police Department took to social media Wednesday to clear up what it is calling an "unfortunate incident regarding Schlotzsky's."
ABC 12 reports that a Guadalupe County deputy went through the drive-thru of the fast food chain and left with a profane message on the receipt.
[sc name="Article Mobile Ad" ]
According to the Facebook post, the cashier was goofing off with another store associate and typed the message "FCK U" on the ticket. The message was only meant to be seen by a coworker.
However, the message did print, and unbeknownst to the cashier, the deputy was the customer that ended up with the receipt.
The deputy spoke to the store owner, who is "mortified."
The sheriff's office said management is, "100% convinced that this was not directed at law enforcement."
The store applied the discount given to law enforcement and the young lady went with a parent to apologize in person to the deputy. The Facebook post said she is no longer an employee at the Schlotzsky's.
The post also said the store is a great community partner and feel "one person does not represent an entire organization."