Miss Alabama Calls Dallas Cop Killer A 'Martyr'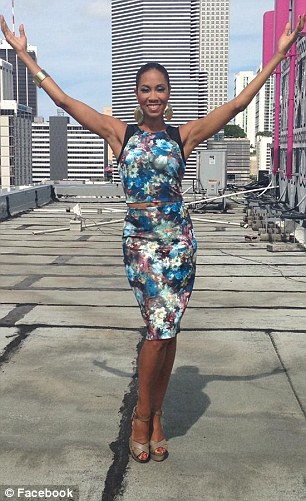 The first black Miss Alabama has been suspended from her job at a Miami TV station after calling the Dallas cop sniper 'a martyr'.
Kalyn Chapman James, who hosts weekly art program the Art Loft on WPBT2, recorded a two-minute long Facebook clip in her car outside her local church while struggling to hold back tears.
In it the 1993 Miss Alabama admitted that she felt little towards the five officers killed when Micah Johnson opened fire during a rally in the Texas city last week.
Despite conceding that she did not want to agree with her natural feelings, Mrs James stressed that her heart was with both Johnson and the two black Americans killed by police officers in shootings that sparked the Dallas riots – Alton Sterling and Philando Castile.
The married former beauty queen said: 'I don't feel sad for the officers who lost their lives and I know that's not really my heart.
'I value human life. And I want to feel sad for them but I can't help but feeling like the shooter was a martyr.
'I don't want to feel this way and I know it's not the right way to feel because nobody deserves to lose their lives. But I'm sick of this.'
'I can't stop replaying the image of these men being killed in my mind and my heart weeps.'