Broncos' Brandon Marshall loses endorsement deal after kneeling for national anthem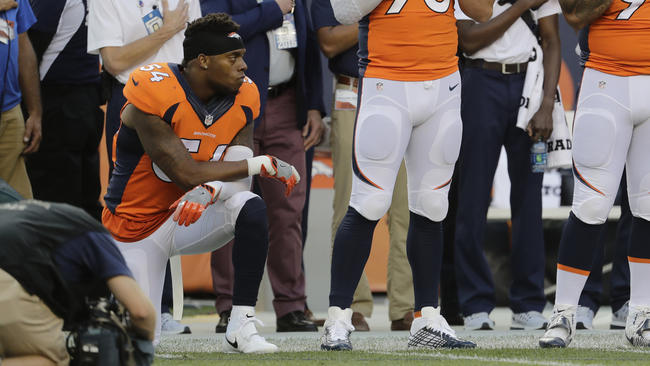 Broncos linebacker Brandon Marshall said he expected pushback. He knew not everyone would agree with his decision to kneel for the national anthem before the Broncos' season-opener against Carolina on Thursday evening.
He expected some to perceive his protest, designed to highlight issues such as racial inequality and police brutality, in a negative light.
Friday morning, his expectation became reality when Air Academy Federal Credit Union released him from his endorsement deal. Marshall became AAFCU's official spokesperson in May.
"Although we have enjoyed Brandon Marshall as our spokesperson over the past five months, Air Academy Federal Credit Union (AAFCU) has ended our partnership," Glenn Strebe, the AAFCU's president and CEO wrote in a Facebook statement. "AAFCU is a membership-based organization who has proudly served the military community for over 60 years. While we respect Brandon's right of expression, his actions are not a representation of our organization and membership. We wish Brandon well on his future endeavors."
Marshall said Thursday that he made the calculated decision to kneel for the anthem after discussing it with family and friends, as well as Broncos tight end Virgil Green. He also said his actions were not out of disrespect for the military or law enforcement.
"I knew what it came with," he said. "I knew what territory it came with. I just had to do it."