Sheriff's Office Gives Puppy To Family After Dog Killed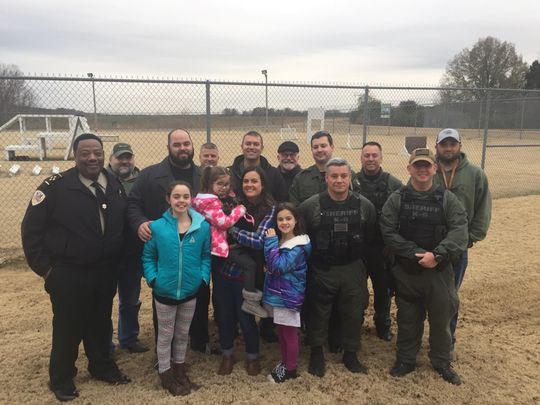 When the Payne sisters lost their dog in an accident Monday, they had no idea their tragedy would spur others to step in and provide them with a surprise that would change their lives just a few days later.
The Payne family's beloved German Shepherd Beau was hit by a car Monday. The driver sped off without stopping to check. Shaun Payne and his wife Tracy Payne scooped the dog up and rushed him to an emergency veterinarian, where he had to be put down.
[sc name="Article Mobile Ad" ]
Payne said the sisters, 9-year-old Bella Faith, 7-year-old Kylee Grace, and 5-year-old Addie Kate were distraught with the loss of a dog who'd been in the family for five years.
The following day Payne mentioned the incident to his friend Milton Carroll, a pastor at Hope Presbyterian Church. Carroll thought a new dog might help the girls heal, Payne said, but he wasn't keen on the idea. Unbeknownst to Payne, Carroll began asking around, looking for a German Shepherd puppy to join his family.
Word of mouth traveled and eventually reached Lt. Chris Harris, commander of the K-9 unit with the Shelby County (TN) Sheriff's Office. He wanted to help.
"I can still remember when I was a kid, my dog got ran over by a car," Harris said. "I remember how devastating that was."
Once Harris was on board, Carroll urged Payne to call him.
Harris began looking for anyone who might know of adoptable German Shepherd puppies, which proved hard to come by so close to Christmas, he said. Eventually he learned of a colleague in the department had recently purchased a puppy from a breeder, and he knew there were two left.
Harris found an anonymous donor who was willing to pay for the puppy, which the breeder sold to them for $200. Together, SCSO and the Payne parents agreed to surprise the girls by taking them on a tour of the K-9 unit Friday.
Deputies showed the sisters a demonstration with one of the K-9s and walked them through the facility before leading them into the room filled with SCSO officials and Chief Deputy Floyd Bonner.
Bonner told the girls he wanted to show them the newest addition to the squad, and brought out an eight-week-old German Shepherd puppy.
"At this point I'm bawling, and my kids, they still don't have a clue," Payne said.
Bonner told the girls the Sheriff's Office wanted them to take it home, and they scooped him up and immediately decided to name the puppy Jolly, Harris said.