K9 Shot During Robbery Response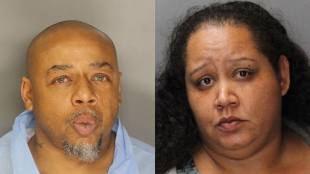 Fox 40 reports that an Elk Grove (CA) Police K9 is recovering after it was shot Saturday night as officers responded to reports of an armed robbery.
According to Elk Grove Police Officer Chris Trim, officers responded to two men had robbed the Jamba Juice on West Stockton and Laguna Boulevards at gunpoint.
[sc name="Article Mobile Ad" ]
Officers spotted two men that matched the description of the alleged robbers. Trim said the two men ran toward a waiting getaway car with a woman behind the wheel. During the chase, one of the men fired at the K9, hitting it twice.  Police did return fire on the suspects.
The dog sustained non-life threatening injuries, and is recovering under a veterinarian's care.
Both suspects were eventually caught.
According to the Elk Grove Police Department, the two suspects who were chased by authorities are at a local hospital being treated for non-life threatening injuries.
Two loaded handguns were found in a nearby field during an initial investigation of the crime scene.