Ben Roethlisberger Throws Touchdowns and Police K9's Get Protected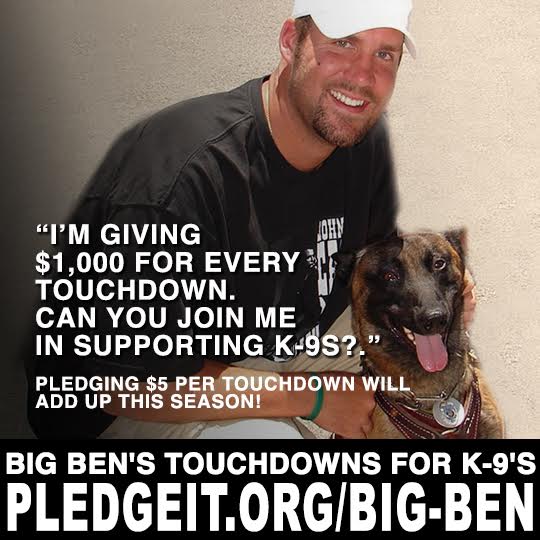 Pittsburgh's Ben Roethlisberger has pledged to donate $1,000 for every touchdown he throws this season to his foundation, which has supported K-9 units and service dogs at police and fire departments throughout the country since 2007.
The Ben Roethlisberger Foundation and the Giving Back Fund will distribute grants to K-9 units in communities near the sites of the Steelers' eight road games this season, and the Arlington County Police Department is the designated recipient for Week 1.
"Our K-9s are integral members of the Arlington County Police Department, both in the field and from a community outreach perspective," Arlington County Police Chief M. Jay Farr said in a release. "We are grateful to receive this grant so we can provide our K-9s with ballistic vests as an added layer of protection to keep them safe."
Roethlisberger established his foundation in 2006 after a police dog was shot and killed in his hometown of Findlay, Ohio. According to Roethlisberger's website, his foundation has distributed more than $1.5 million in grants since 2007, including about $170,000 last season.