Woman Records Her Own Murder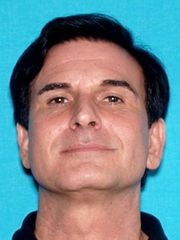 Photo: Suspect Scott Pettigrew
---
When police found Mimie Anita Cowen, 65, floating face down in her pool with bruises and cuts, they knew they were at a murder scene
They soon found a digital audio recorder on the floor under the kitchen table. Someone had made a minute-long recording earlier that night.
"It was a recording of what I believe took place that night," said Cathedral City (CA) Detective Heather Olsen on Friday, testifying during a preliminary hearing for Scott Pettigrew, a tenant who is accused of murdering Cowen last June. The hearing was the first time details of the killing have been made public.
Prosecutors also played the recording in court. A woman can be heard shouting over the sounds of an escalating scuffle. A second voice is unintelligible, but police say they are confident that voice belongs to Pettigrew.
"Stay away from me!" the woman yells in the recording. "You bastard! You bastard! You bastard!"
"Get out of here! Get out of here! Get off me!"
The recording then abruptly ends.
On the night of the killing, police responded to Cowen's house at the request of her relatives, who had heard a loud argument while on the phone with her earlier that evening. After discovering Cowen's body in the pool, the cops found Pettigrew casually lying in his bedroom, completely naked, with scratches on his back and fingers.
He was arrested at the scene.
Court documents have previously shown that Cowen attempted to have Pettigrew evicted, out of concerns for her safety.
Five days before her death, Cowen filed court paperwork asking a county judge to evict Pettigrew, who she said was on an escalating path of alarming behavior.
"I am being terrorized daily in my own home," Cowen said. "Escalating each day. I need help. I need a restraining order."
In response, Superior Court Judge James Cox gave Cowen an eviction, but not the one she needed. He ordered Pettigrew's dogs out of the house, but said Pettigrew could stay as long as he remained 5 yards away from Cowen. Cox told Cowen and Pettigrew to come to a court hearing in two weeks where they could work out a permanent solution.
Four days later, Cowen was dead. Pettigrew was in jail. The court hearing came too late.