Watch Heisman Candidate Baker Mayfield Being Run Down By Police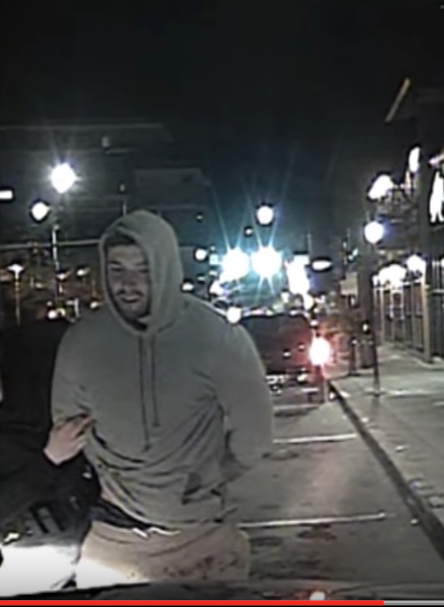 Dash-cam video of Oklahoma quarterback Baker Mayfield, which shows him being tackled into a wall as he was arrested, was released Friday by Fayetteville police in Arkansas.
Mayfield was arrested Feb. 25 on misdemeanor complaints of public intoxication, disorderly conduct, resisting arrest and fleeing.
The video of the arrest begins with police arriving after an incident at a restaurant that involved Mayfield.
While taking a statement from another individual, one officer is heard saying to Mayfield, "Hey, dude, if you don't keep your mouth down, you're going to jail right now, OK? If I hear you cuss one more time, yell at her."
Immediately, another officer is heard saying, "It's too late. I'm done. I've been standing here listening to it. I'm finished with it. He's gone."
Mayfield is heard responding, "OK, I'm done. I'm done. I'm done."

Mayfield then starts walking in the opposite direction, before breaking into a run. But before he can get more than a few steps, two officers are seen tackling Mayfield into a concrete wall, causing Mayfield's head to slam into a step.
"I'm done. I'm done," Mayfield says after the tackle.
"You are right. You are f—ing done," an officer responds.
"I didn't say anything. Are you kidding me? Are you kidding me? I didn't say anything" Mayfie;d exclaimed.
"No, you're just a dumbass who tried to run," an officer responds.
At the end of the video, the officers are heard joking and laughing about Mayfield being the quarterback at OU.
"Is he really?" an officer says. "He's not very fast."
Three days after the arrest, Mayfield issued a public apology over Twitter.
"I know that I represent the University of Oklahoma on a very large scale, therefore I know better than to bring bad attention and scrutiny to the school and people that I love," he wrote. "The shame, guilt and embarrassment I have felt over the past few days and continue to feel is something I would never wish upon anybody.
 "Due to the feeling of shame and guilt for misrepresenting our athletics department and specifically my football team, I have found it extremely difficult to be around my teammates the past few days. I feel as though I have failed them and let them down on many levels, so to all of my coaches and brothers, I am sorry for not being the leader you know I am."
"I know that this adversity is directly caused by my own actions and I have nobody to blame but myself, but I will own up to it, look it in the face, and I will be a better person in the long run."
Mayfield has finished in the top five of the Heisman voting the past two seasons  and is the leading candidate for the 2017 season…..right behind