Watch Dramatic Video Of Police Officer Disarming Suspect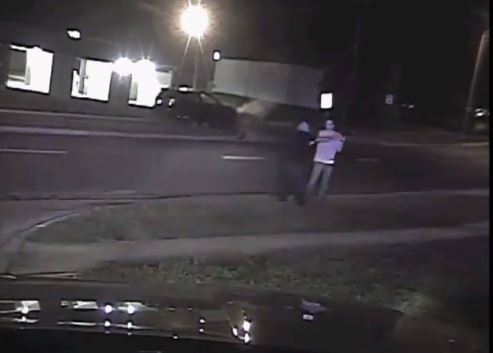 [vc_row][vc_column][vc_raw_html]JTNDaWZyYW1lJTIwc3JjJTNEJTIyaHR0cHMlM0ElMkYlMkZ3d3cuZmFjZWJvb2suY29tJTJGcGx1Z2lucyUyRnZpZGVvLnBocCUzRmhyZWYlM0RodHRwcyUyNTNBJTI1MkYlMjUyRnd3dy5mYWNlYm9vay5jb20lMjUyRktDVFY1JTI1MkZ2aWRlb3MlMjUyRjEwMTU1MDQ4MDI3NTYwNDcwJTI1MkYlMjZzaG93X3RleHQlM0QwJTI2d2lkdGglM0Q0MDAlMjIlMjB3aWR0aCUzRCUyMjQwMCUyMiUyMGhlaWdodCUzRCUyMjQwMCUyMiUyMHN0eWxlJTNEJTIyYm9yZGVyJTNBbm9uZSUzQm92ZXJmbG93JTNBaGlkZGVuJTIyJTIwc2Nyb2xsaW5nJTNEJTIybm8lMjIlMjBmcmFtZWJvcmRlciUzRCUyMjAlMjIlMjBhbGxvd1RyYW5zcGFyZW5jeSUzRCUyMnRydWUlMjIlMjBhbGxvd0Z1bGxTY3JlZW4lM0QlMjJ0cnVlJTIyJTNFJTNDJTJGaWZyYW1lJTNF[/vc_raw_html][vc_column_text]A man was arrested after a traffic incident led to him running from police and later pulling a gun on an officer on Tuesday.
KCTV5 reports that Bradley Poland, 34, was charged with aggravated assault on a law enforcement officer and battery on a law enforcement officer.
Police say Poland was stopped by an officer for driving without headlights.
As an officer approached the car, Poland drove away and hit a nearby fire hydrant. He then got out of his vehicle holding a handgun.
The officer struggled with Poland and was able to knock the gun out of his hand.
Poland then tried to run on foot but was taken into custody after a short chase.
The police officer suffered a minor injury but is expected to recover.
Poland is being held on $250,000 bond.[/vc_column_text][/vc_column][/vc_row][vc_row][vc_column][/vc_column][/vc_row]