Two Wounded in New Jersey Concert Shooting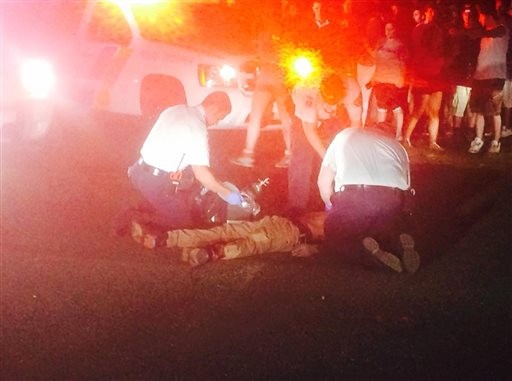 Authorities attend to people following a shooting late Monday, Aug. 3, 2015, in Holmdel, N.J. Police say the shooting happened outside the PNC Bank Arts Center, where hip hop artists J. Cole and Big Sean performed at the venue. (Mike Lefanto via AP)
HOLMDEL, N.J. (AP) — State police on Tuesday were looking for a suspect and witnesses to a shooting that left two people wounded outside a hip-hop concert in New Jersey.
The shooting happened late Monday in the parking lot outside the PNC Bank Arts Center in Holmdel, causing panic among the crowd attending a show by Big Sean and J. Cole.
State troopers, using K-9 units and a helicopter, scoured a wooded area near the amphitheater.
The victims were in critical condition at Jersey Shore University Medical Center, state police said on their Facebook page early Tuesday. Their names and ages have not been released.
Eighteen-year-old Omayma Bougdour told the Daily News that gunfire began after an argument broke out in the parking lot. She says "everyone started sprinting and stampeding."
One of the men was "not responsive," and the other was breathing heavily and begging for a drink of water, she said.
Big Sean and J. Cole are touring together. They're to perform at Madison Square Garden in New York on Tuesday.
Copyright 2015 The Associated Press. All rights reserved. This material may not be published, broadcast, rewritten or redistributed.