Shooting Suspect Demands K9 and Then Dances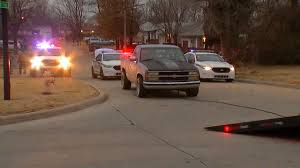 The Tulsa (OK)  Police Department have released dash-cam footage from after a pursuit last week that shows a K9  biting a shooting suspect, who made an impressive leap into a truck bed to avoid the dog's attack.
Justin Ray Trammel, was accused of shooting at his father with a shotgun on December 22, 2015.
Officers chase Trammel for approximately 17 minutes.  The pursuit concludes with Trammel exiting his truck.  At first he follows the commands of the officer and a K9 officer is heard restraining his dog.
Trammel then stops following commands and requests the dog by stating "Come get me, pu—-s!".  The K9 is released and what happens next is a scene out of "Dancing With The Stars" although this suspect's 17 minutes of fame is up.
Online records indicate that Trammel was booked into the Tulsa County Jail on a complaint of shooting with intent to kill.
Watch the video and tell us what you think.
Update:  2/5/16 – The Suspect is alleging excessive force and has hired an attorney.  He remains in Jail on a $200,000 bond.  You can read the story here.