Sheriff Defends Removal Of Thin Blue Line Flag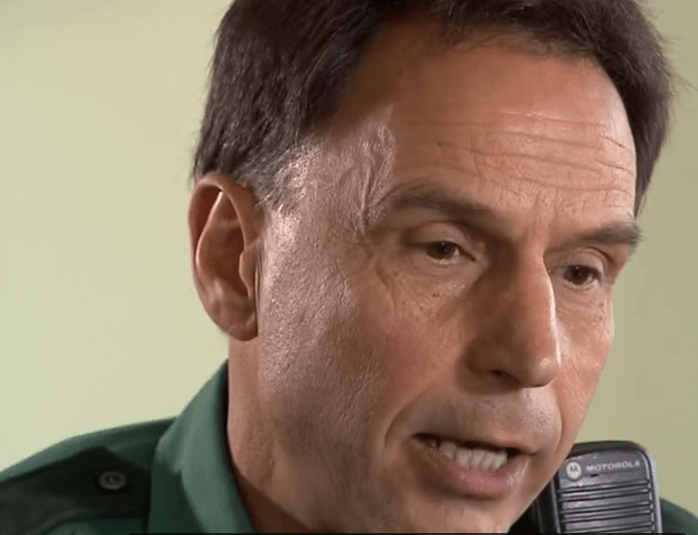 Photo Courtesy: YouTube
---
After Multnomah County Sheriff Mike Reese ordered the flag be removed from an employee break room "because it was offensive," social media broke out into a frenzy and now he wants to explain why he made that decision.
The issue came to light on Tuesday when the Oregon Fraternal Order of Police Lodge 7 posted the incident on Facebook .
The Multnomah County Sheriff's Office commented on the post, saying the U.S. National Flag Code forbids alteration of the flag and "while we always honor our fallen law enforcement officers, it's important that we do so in Court facilities in a manner that doesn't violate established protocols."
Many didn't buy that explanation and now the Sheriff has clarified his reasoning and it seems to have nothing to do with the Flag Code but rather political correctness.
In a statement released Wednesday night, Reese defended his decision and said the symbol of the thin blue line flag is not universal.
"For some [the thin blue line flag] is a symbol honoring fallen law enforcement officers. For others, the flag is seen as a sign of disrespect toward communities of color," Reese said.
The move was similar to Tulsa Fire Chief Ray Driskell in June 2017 when he ordered the removal of "blue stripes" from fire trucks because it "may send the wrong message to some people."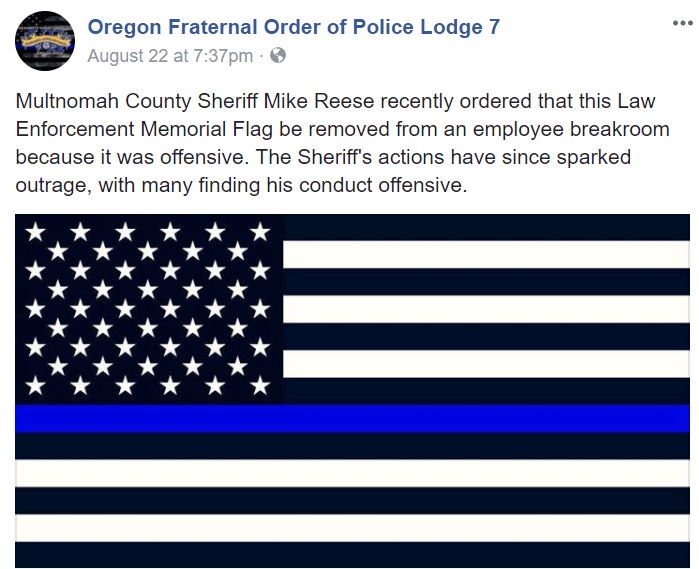 Here is the full statement by Sheriff Reese:
Earlier this week, I was approached by the office of a county commissioner regarding an altered United States Flag, known as the Thin Blue Line Flag, on display in the county courthouse.
For some, it is a symbol honoring fallen law enforcement officers. For others, the flag is seen as a sign of disrespect toward communities of color.
As public safety officers, we have a tremendous responsibility to the communities we serve and to each other. I support honoring our fallen officers in a way that respects the sacrifice they made and the communities they served.
Along with that, organizational esprit de corps and respect for one another must be preserved in order to work together as a team in service to our community.
As a 27-year law enforcement officer, I strongly support our public safety officers and speak often of their courage, integrity and commitment to service. I am keenly aware that they put their lives in harm's way each and every day to protect those who live in and visit Multnomah County.
The community concerns raised, led me to ask that the flag be removed while we consider whether or not it is appropriate to display any altered United States Flag inside a County-owned facility.
During a meeting with staff earlier today, I ask them to work with me to resolve these issues by determining how and where to display the flag in a manner that will honor fallen law enforcement officers and also meet the expectations of our community.