Video: Robber Allegedly 'Mocks' Phoenix Police Officer Before Escaping
Phoenix Police Detectives are investigating an attempted armed robbery at a convenience store where a uniformed Phoenix police officer witnessed the crime but failed to call it in or report it, according to multiple sources.
The August 11th incident was captured on surveillance cameras at the Circle K near 35th Avenue and Thomas Road.
The city is also asking for the public's help in identifying the suspect and is offering a $1,000 reward.
The female officer, who was working at the store in an off-duty capacity, has been reassigned "to an administrative position."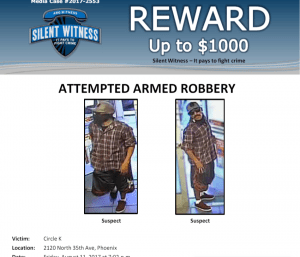 In the video, a masked suspect armed with a knife is seen walking into the store and immediately heads to get behind the counter.
The store's clerk yells to the back of the store where the officer is standing. As she quickly moves to the front of the store, the suspect heads for the door.
But before he exits, he turns and appears to begin yelling back and forth with the officer.
Phoenix police released limited clips of the video, and the video cuts away from the officer as the suspect stands at the door.
But multiple sources tell ABC15 that the officer draws her gun, holds it "gangster style" (sideways), and makes a motion with the gun like she's shooing away a fly.
During the exchange, the suspect stands at the door and appears to mock the officer, giving her a thumbs up, and even taking off his mask before he casually leaves the store.
Local reports indicate that the officer never called the robbery in or reported it to the police department.