Police Officer Photographed Saving American Flag During Hurricane Harvey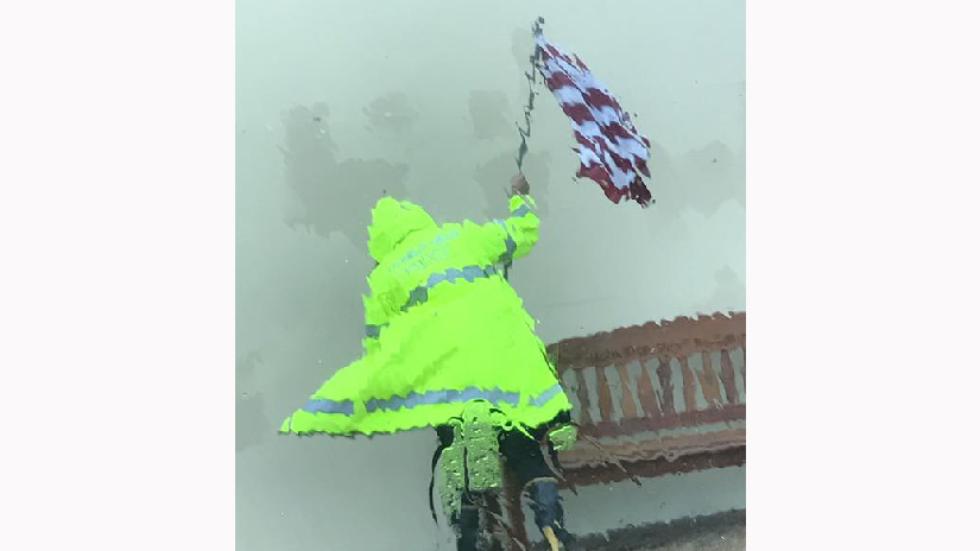 Photo: Aransas Pass Police Department Officer Jack McCarty is seen saving an American flag as Hurricane Harvey bears down on the Texas coast, Friday, Aug. 25, 2017. (Facebook/Aransas Pass Police Department)
---
A police officer in Aransas Pass, Texas, refused to allow Hurricane Harvey to claim an American flag in danger Friday.
According to a Facebook post from the Aransas Pass Police Department, Officer Jack McCarty rushed into the storm to grab the flag, which was about to be claimed by the powerful storm that was just hours from landfall. In the image, McCarty can be seen holding the flag just before it was brought to safety and out of the storm.
"While some dishonor and desecrate her, APPD Ofc. Jack McCarty will stop at nothing to honor and save her," said the post.
As of this writing, the post had been shared over 5000 times.
While the vast majority of those that commented were overwhelmingly positive, one post said "Nice way to divide. Someone in your police dept should be fired…."
So it's now divisive to save the American Flag and honor it?  We say keep it up Aransas Pass Police and thank you Officer McCarty for your service.