The Texas Department of Public Safety has identified Damon Allen (above), as the fallen trooper from a Thanksgiving traffic stop.  Trooper Allen joined the department in 2002 and was married with three children.
Allen was shot and killed before 4 p.m. Thursday during a traffic stop on Interstate 45 near Fairfield, about 90 miles south of Dallas, according to DPS. The department said Allen was shot with a rifle and died at the scene. The suspect then fled.
Dabrett Black, 32, of Lindale, Texas, was apprehended about five hours after the shooting in Hempstead, about 110 miles south of Fairfield. The sheriff's office said on its Facebook page that shots were fired, but did not indicate who opened fire.
Black is charged with capital murder of a peace officer, among other charges. He was held in the Brazos County Jail.
Black had a criminal history of assaulting a public servant and trying to take their weapon in 2015, and another charge of assaulting a public servant and reckless driving in 2017.
Gov. Abbott released a statement about the shooting, saying:
"With heavy hearts on this Thanksgiving, Cecilia and I express our most sincere condolences to the family, colleagues and friends of the Trooper who was callously killed today in the line of duty," Gov. Abbott said. "As law enforcement continues to search for the individual responsible for this heinous crime, I ask that all of Texas keep this trooper and his brothers and sisters in blue in their thoughts and prayers. The killer will face justice, and the State of Texas will continue to offer our unwavering support for the men and women in law enforcement who keep our communities safe."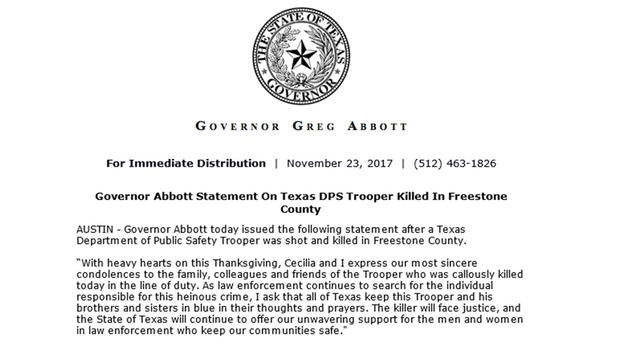 The Texas Department of Public Safety Director Steven McCraw said in a statement Thursday night "Our DPS family is heartbroken tonight after one of Texas' finest law enforcement officers was killed in the line of duty. Texas Highway Patrol Trooper Damon Allen was a loving husband and father of three, and we ask for your prayers for his entire family and his many friends and colleagues during the difficult days ahead. Trooper Allen's dedication to duty, and his bravery and selfless sacrifice on this Thanksgiving Day, will never be forgotten."
Texas DPS, with various other law enforcement agencies, escorted Allen's body to the Dallas County Medical Examiner's office late Thursday night.
Law Officer is the only major law enforcement publication and website owned and operated by law enforcement. This unique facet makes Law Officer much more than just a publishing company but is a true advocate for the profession.