Update:  At 9:34 PM, Texas Tech announced on Twitter that the suspect was in custody and declared "all clear."
---
Texas Tech University was on lockdown Monday evening amid reports of a shooter on campus, according to a tweet from university.
"A shooting has been reported at TTU Police Department," Tech's Twitter account tweeted at 6:23 p.m. "Shooter is at large. The campus is on lockdown. Take shelter." Then at 6:51, it tweeted: "The current situation is ongoing. Continue to shelter in place."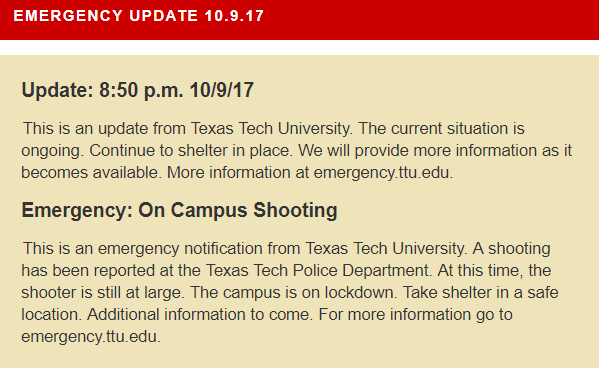 Lubbock news station KCBD reported that a Texas Tech police officer has been shot and killed at the university's police headquarters.
According to the report, sourced to university officials, officers visited a student on a welfare check and found drugs.  The student was brought to police headquarters where he produced a gun and shot a police officer in the head, killing him.  The student fled and remains on the run.
SWAT team members are now searching for the suspected gunman, identified as freshman Hollis A. Daniels, 19.
Daniels is believed to have fled the campus in a vehicle after the shooting.
KCBD reports that the suspect is 6 feet tall, 140 pounds, with red hair and blue eyes, wearing a white t-shirt and blue jeans.
On Tuesday, Texas Tech Police reported that the fallen officer was Police Officer Floyd East, a 48 year old member of the agency.
Law Officer is the only major law enforcement publication and website owned and operated by law enforcement. This unique facet makes Law Officer much more than just a publishing company but is a true advocate for the profession.