Report: Ambush Killings Of Police Up 300%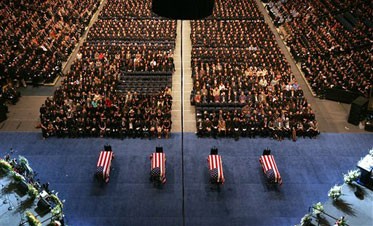 There has been a 78 percent increase in shooting deaths of law enforcement officers so far in 2016 when compared to the same period last year, according to a report by the National Law Enforcement Officers Memorial Fund.
Ambush killings of police officers rose by 300 percent. Of the 32 officers killed by firearms in 2016 so far, 14 were killed in an ambush, seven were killed while investigating suspicious persons or circumstances, and five were killed in a tactical situation, such as a hostage situation or when a gunman barricades himself or herself.
Four other officers were fatally shot while attempting to make arrests in cases not related to burglary or robbery, and two were killed while handling or transporting prisoners in their custody. Despite the year-to-year spike, police fatalities from firearms remain the lowest in decades. The 1970s was the deadliest decade for officers, according to NLEOMF data. Since then, fatal shootings of officers have decreased with each decade
"Firearms-related fatalities peaked in 1973, with 84 officers shot and killed in the first half of the year. Since then, the annual average has decreased from 63 in the 1970s, to 29 in the 2000s," the NLEOMF report says. "Handguns were the leading type of firearm used in fatal shootings of law enforcement officers in the first half 2016. Of the 32 officer fatalities, 19 officers were shot and killed with a handgun. Twelve officers were shot and killed with rifles and one officer was shot and killed with an unidentified firearm."
"Each day some 900,000 men and women work to keep our communities safe, and we owe each of them a debt of gratitude," NLEOMF President and CEO Craig W. Floyd said in a statement.
"All American citizens should be outraged at the number of officers who have been targeted, shot and killed this year. The brutal assassinations of law enforcement officers in Texas and Louisiana shocked our nation and we saw similar ambush attacks on officers in other parts of the country earlier this year."