Ohio State Highway Patrol Trooper Struck and Killed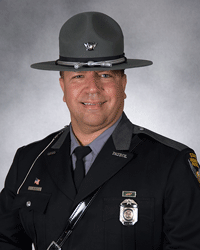 CLEVELAND – The Ohio State Highway Patrol is mourning the loss of Trooper Kenneth Velez, of the Cleveland Post, after he passed away this afternoon following a traffic crash near Lakewood, Ohio in Cuyahoga County.
The crash occurred on Interstate Route 90 near mile post 164 at approximately 12:52 p.m. Trooper Velez was conducting traffic enforcement when we was struck outside of his patrol car.
[sc name="Article Mobile Ad" ]
"This is a tragedy for the Ohio State Highway Patrol and the Department of Public Safety," said Colonel Paul Pride, Ohio State Highway Patrol Superintendent. "Our prayers go out to the Velez family during this difficult time."
Trooper Velez, 48, graduated as a member of the 118th Academy class in November 1989. Trooper Velez is survived by his three children.