Houston Deputy Shot In Ambush Attack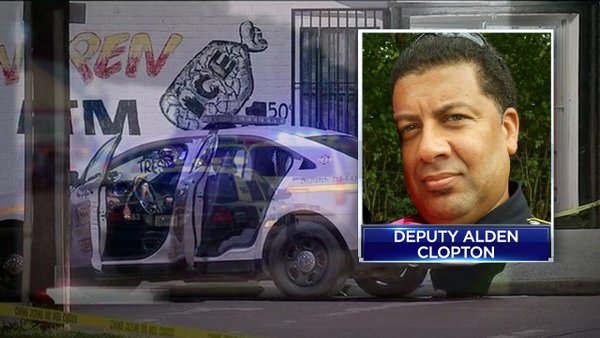 A man shot and wounded a deputy constable at a traffic stop in Houston late Wednesday in what the authorities described as an ambush-style attack.
The shooting happened around 11:20 p.m. as the deputy, Alden Clopton, stood outside the driver-side window of another deputy's vehicle after a traffic stop, said Kese Smith, a spokesman for the Houston Police Department.
The deputies were talking when a man fired six times from across Alabama Street, just southeast of downtown Houston, striking Deputy Clopton with four bullets, said Constable May Walker of the Harris County Precinct 7 Constable's Office. The gunman was not involved in the traffic stop, the police said.
The other deputy returned fire as the man fled on foot, but it was not known if she hit him, the authorities said.
Click 2 Houston has the exclusive video of the incident. It can be viewed here.
Clopton's son, Todre, who is a police officer in Biloxi, Mississippi, thanked Precinct 7 and doctors at Memorial Hermann Texas Trauma Institute. He said support for his father was coming from all over the world.