Florida Deputy and Corrections Officer Killed From Hurricane Irma
A Hardee County (FL) sheriff's deputy was one of two people killed in a car accident Sunday morning as Hurricane Irma began to encroach upon the state.
Julie Bridges, a 13-year member of the Hardee County force, died in a two-car collision while driving home Sunday morning.
Bridges was a 13-year veteran and was heading home to pick up more supplies for the shelter when the incident happened.
The Florida Department of Corrections said the driver of the other vehicle, Sgt. Joseph Ossman, was heading to start his shift at the Hardee Correctional Institution, also died.
The Florida Highway Patrol reported that the visibility was low and it was raining at the time of the collision.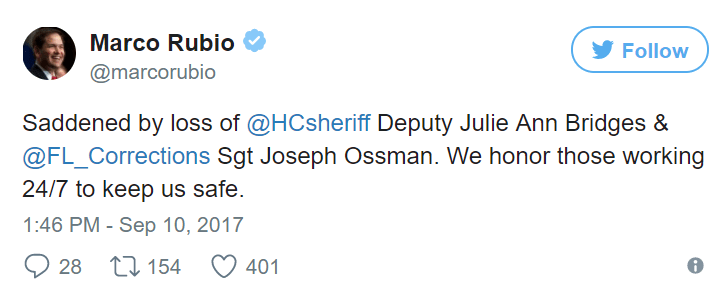 Sen. Marco Rubio, R-Fla., tweeted Saturday afternoon that he was "saddened" by the loss of both officers, adding, "We honor those working 24/7 to keep us safe."