Cop Killer Is Dead And A Nation Mourns A Hero Trooper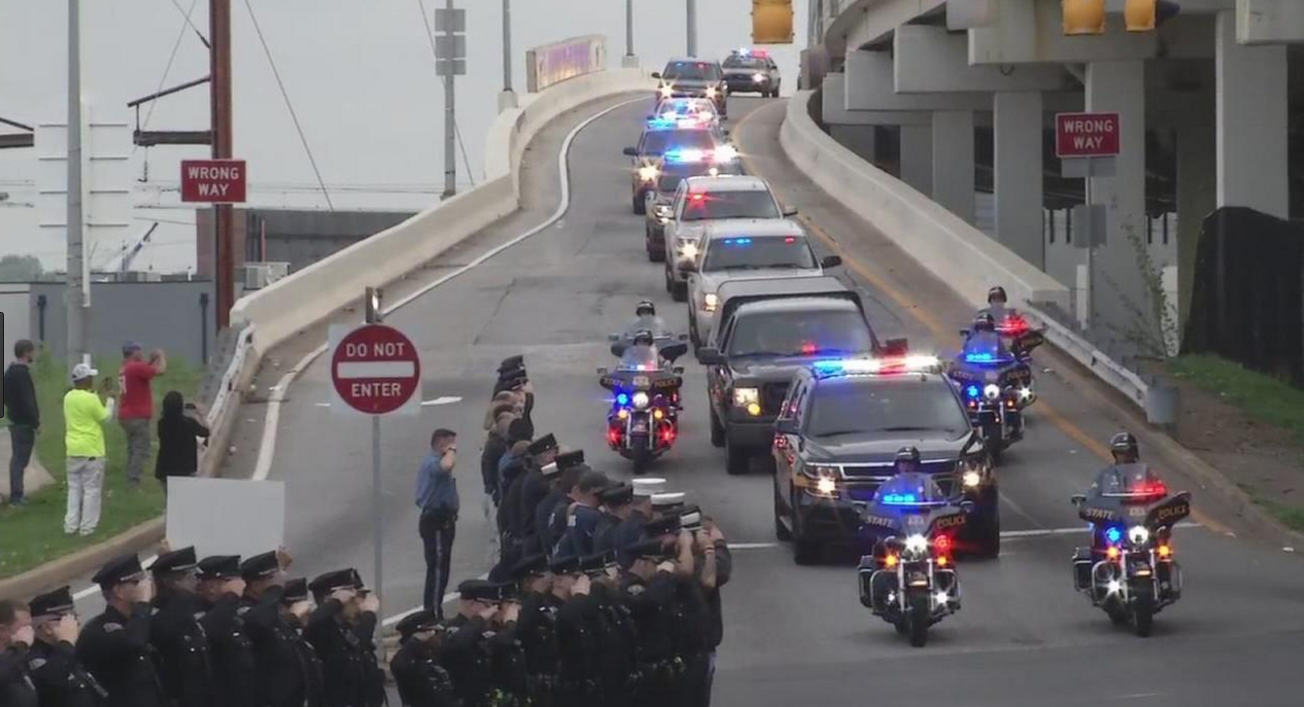 Photo Courtesy 6ABC:  The body of Cpl. Stephen Ballard is escorted on Wednesday.
---
Delaware State Police have identified the man who shot and killed a trooper on Wednesday, and was then killed himself by police gunfire on Thursday morning.
He is identified as 26-year-old Burgon Sealy Jr. of Middletown, Delaware. He was shot after a nearly day-long standoff with police at his home.
Cpl. Stephen Ballard, 32, was shot in the parking lot of a Wawa at 1605 Pulaski Highway in Bear, Del. around 12 p.m. Wednesday.
Officials say it all began when Ballard spotted a suspicious red Dodge Charger occupied by two suspects in the Wawa parking lot.
Ballard made contact with the driver, then made contact with Sealy, who was in the front passenger seat.
Sealy told Ballard he had arrived at the Wawa in a gray Honda Accord, which was also in the parking lot.
Ballard asked Sealy to step out of the vehicle, and then there was a struggle. Police say that's when Sealy fired at Ballard with a handgun he had in his waistband.
Ballard attempted to run for cover behind a parked vehicle. Police say Sealy pursued him, and fired at Ballard, hitting him in the upper body.
With Ballard on the ground, police say Sealy approached him and then fired multiple rounds at close range, striking Ballard again in the upper body.
Sealy fled in the Honda then called family members, police say, and said he shot a trooper at the Wawa. His family immediately called police.
With that information, police were able to track Sealy down to his home in the Brick Mill Farms development in Middletown, Delaware.
Police arrived, secured a perimeter, and attempted to make contact with Sealy. He then fired multiple rounds at the officers from inside the home.
He was the only one inside.
When Sealy stopped communicating with officers at about 8:22 p.m., the ordnance unit used an explosive breaching charge on the front door.
Still, Sealy failed to respond and the standoff stretched into the overnight hours.
At around 4 a.m. Thursday, officers reported hearing gunshots from inside the home. Again, police say they tried to make contact, but got no response.
Then, at 9:17 a.m., Sealy emerged from the home, engaged police, and was shot by officers. Rescuers on the scene began efforts to save his life, but he was pronounced dead at 9:22 a.m.
Delaware Governor Carney ordered both the U.S. and State flags to be flown at half-staff in memory of fallen Delaware State Police Corporal Stephen J. Ballard until further notice.
Governor Carney issued the following statement on the death of Corporal Stephen J. Ballard:
"One of our sworn Troopers has lost his life performing a duty on behalf of the people of Delaware," said Governor Carney. "My heart is with Corporal Ballard's family and the officers who have served beside him. Delaware's law enforcement officers go to work every day knowing they put their lives on the line to protect ours. We are incredibly indebted to their bravery and service."