Baton Rouge Officer Fighting For Life Squeezed Hand Of Family Member…"We Need You"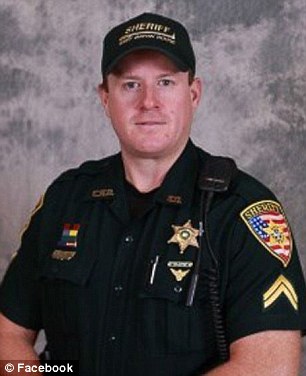 A police officer who has been unconscious since being shot by the Baton Rouge shooter on Sunday squeezed the hand of a family member when she told him: 'We need you'.
Nicholas Tullier, 41, responded when given the message by his family who have not left his bedside since he was shot in the stomach and the back of the head on Sunday morning.
Tullier, a father of two teenage boys, is in 'very, very critical condition' and doctors are using a ventilator to keep him breathing.
He is said to be in 'God's hands' having failed to regain consciousness since the shooting – but his family are praying he will pull through
Tullier, an East Baton Rouge Sheriff's Deputy, was one of three cops who were injured by 29-year-old Gavin Long during his massacre in the Louisiana capital, which also left three officers dead.
The 18-year law-enforcement veteran was gunned down inside his squad car afer Long had already killed the three other cops.
He had just returned to his police car after writing down the license plate for Long's rental vehicle when Long advanced on him, firing into the cruiser.
A Gofundme account has been set up to raise money for Tullier's two boys, aged 16 and 18.